A small but important part of The Seasons Fall Festival brought a select group of arts supporters to the Greystone Restaurant in Yakima's historic district for an evening of food, wine and entertainment. Daron Hagen served as impresario, pianist and raconteur as soprano Gilda Lyons and tenor Robert Frankenberry performed songs by a who's-who of composers and lyricists. The Seasons Performance Hall is a nonprofit operation that has managed with difficulty to weather the storm and stress of the struggling economy. It depends, like such arts outfits everywhere, on community support and the kindness of donors. The evening was designed to generate tangible help for the organization.
Hagen's montage of pieces by George and Ira Gershwin, Johnny Mercer, Leonard Bernstein, Henry Mancini, Kurt Weill Stephen Sondheim, Jacques Brel, Marc Blitzstein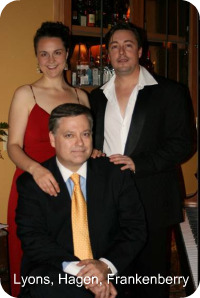 and Joe Raposo was as rich as the Greystone chef's red wine reduction sauce on the steak. Frequent collaborators, Lyons and Frankenberry have developed smooth rapport in voice and dramatic presentation. Sailing along in Hagen's skillful arrangements, they blended segments of disparate musical material into an event that would be at home in tony cabaret establishments of Manhattan, San Francisco or London. Their treatment of material from Weill's and Blitzstein's Threepenny Opera, in a kaleidoscope of styles, began the cabaret at a high level that elevated through the hour. There were those in the elegant Greystone dining room who clearly relished the quality of the performance but, as luck would have it, two tables strategically placed near the front of the room accommodated folks who appeared nonplussed, then disappointed.
Several of the women who occupied one of the tables stayed through most of the performance, shooting one another puzzled glances. The men who sat at the other walked out one by one and, by the end, left the table empty and the room a bit chilled. I don't know what they were expecting, but evidently it was not the sophisticated production Hagen, Lyons and Frankenberry gave them. Too bad for them, but I hope not too bad for The Seasons because it needs the support not only of ticket buying concert-goers but also of wealthy and influential citizens. I wonder whether in retrospect the festival organizers wish that they had made the cabaret a public event. With proper sound and lighting in the intimate, acoustically perfect atmosphere of The Seasons hall, it might have gone further toward achieving their goal.
The next Rifftides post will be a wrap-up of the festival's final events, which included stirring concerts by Matt Wilson and Dena DeRose and an evening that presented no fewer than nine world premieres by seven young and two seasoned (ahem) composers.