Jessica Williams, The Art Of The Piano (Origin). Williams' 2800-word liner essay declares renewed and deepened love for the piano and rededicated independence from the strictures and

orthodoxies of the music establishment. She cites an internet video clip of Glenn Gould playing Bach as "…a life-altering event" that took her back to "…a music founded on the purity and clarity and infinite tonal colorations of the piano itself." Those are qualities I have never found missing from her work, but for strength, serenity and pianism in all of its aspects, this concert at The Triple Door in Seattle reaches the heights of any solo performance I have heard from her.
Williams pays exquisite attention to harmonic color, touch, and the uses of time in a program of Erik Satie's "Gymnopédie No. 1" (here called "First Gymnopédie"), John Coltrane's "Lonnie's Lament," and five original compositions. When it was in the development stage in a previous recording, she referred to "Love and Hate" as "my step into the next zone." This version is more settled at the same time that it is more adventurous in thematic development, with contrasting moods and massive, almost symphonic, harmonic structures. Music being multi-dimensional, she still also occupies a more earth-bound zone. She opens the CD rocking, perhaps nostalgically, in a good old blues in G. "Triple Door Blues" incorporates passages in which Williams uses strings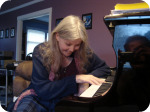 and hammers but not keys, and others that refer to the spirit and four-square swing of Erroll Garner.
"Esperanza" sounds as Spanish as its name. It has deep voicings that might have been written by Granados or Rodrigo, and dance rhythms redolent of Central and South America. A recurring phrase in "Elaine" hints at love songs of more than half a century ago, but the piece opens into a thoroughly modern ballad. "Diane" is another original ballad in which Williams' delicacy of touch is a central element even as she builds intensity. In the Satie "Gymnopédie No. 1," a Bill Evans influence on Williams' interpretation is one color among many. Others are the blues and a brief Satie-like use of the pentatonic scale as in Japanese music. I know of no performance in which a jazz musician has explored the piece more thoroughly.
"Prophets" has the feeling of Coltrane in his late mystical period, with hypnotic modal figures in the left hand and flawlessly executed flourishes on top. Williams does not paint Coltrane's "Lonnie's Lament" with the melancholy he gave it as the final movement of his 1964 album Crescent. Still, she subtracts nothing of the piece's air of profound reflection and brings to it buoyancy that may be an indication of her new state of mind. She seems to have stepped fully into that next zone.