Indian Summer is glorious in this precinct of the northern hemisphere. Skies are cloudless. The mountains stand out crisply on the horizon. Daytime temperatures are in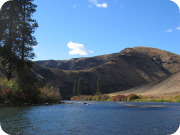 the 80s and 90s, dropping to the high 40s at night. That makes for red apples and great wine crushes in the vineyards. The fine weather also makes for happy cyclists. On my velocipede tour of the valley today, the meteorological perfection brought to mind the song Victor Herbert named for this season. A web search unearthed more than 40 YouTube pages with clips titled "Indian Summer." It turns out that there are a lot more songs by that name than Herbert's; rock, folk, salsa, I don't know what all. I sampled them, and I'm going to do you the favor of not relaying them. Instead, you get two versions of the real thing. The first clip features Sarah Vaughan with the Count Basie Orchestra minus Basie. He died in 1984, Sarah in 1990. Here, she is in splendid voice, as she was until nearly the end.
The second clip is from an Art Ford's House Party telecast from Newark, New Jersey, in 1958. Coleman Hawkins is the tenor saxophonist. Willie The Lion Smith may seem an unlikely accompanist for Hawkins, but there he is, a bit uncertain of the chord changes. Vinnie Burke is on bass, Dicky Thompson on guitar. Sonny Greer is the drummer, out of camera range. We get a glimpse of singer Mae Barnes sitting in the background and hear a bravura note from Charlie Shavers' trumpet at the end.