On the heels of the announcement that he is a 2009 Kennedy Center honoree, Dave Brubeck wrapped up a rare extended club engagement, part of his latest western tour. Sunday, at the helm of the "new" edition of the quartet he has headed since 1951, the 88-year-old pianist and composer played to a packed house for the final set of a four-night engagement at Seattle's Jazz Alley.
Brubeck has come a long way in his recovery from a viral infection that put him out of action last spring. In conversation earlier in the day, he mentioned lingering tiredness and discomfort in his hands. Neither was apparent that night. Weariness dropped away after he made his greeting announcement and settled onto the bench for "C-Jam Blues," initiating a Duke Ellington medley. To some listeners who live in the past, the Brubeck Quartet will always be the one with alto saxophonist Paul Desmond, bassist Eugene Wright and drummer Joe Morello. That group disbanded in 1967. Desmond has been dead since 1977. The new quartet is not new. Drummer Randy Jones has been with Brubeck for 30 years, saxophonist Bobby Militello 28, bassist Michael Moore a mere nine.
Renowned for pieces he has written, Brubeck didn't get around to playing any of them until he and the band entertained one another and the audience with the Ellington medley and a couple of great American song book items. He slid from his spare solo on the blues into "Mood Indigo" and segued from there to "Take the 'A' Train," a central part of the quartet's repertoire since his Jazz Goes To College days of the 1950s. At Jazz Alley, the vigor of Militello's attack and uses of key modulations distinguished a solo that set Moore up for the first of three solos in which he used the bow to virtuosic effect that seemed to rivet Brubeck, Militello and Jones. Throughout the evening, the band listened intently to one another, exchanging smiles and glances at meaningful moments. It is an endearing characteristic of this group; without wearing their regard on their sleeves, they don't mind letting it be obvious that they dig each other. The attentiveness and fellow feeling rub off on the audience.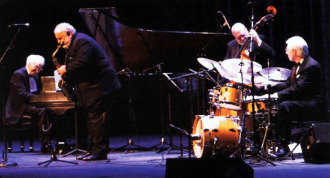 "'A' Train" cooked along on Militello's energetic solo, gained steam with the riff figures Brubeck set up and came to an abrupt conclusion with a Jones drum tag that could not have been more definite. Then came a staple from Brubeck's fund of cherished standards, "These Foolish Things. " He opened it with an unaccompanied chorus into which he managed to fit the "She may get weary, women do get weary" phrase from "Try a Little Tenderness." That unlikely interpolation clearly surprised and amused Moore. Brubeck began "Stormy Weather" alone, melding into a steady 4/4 left-hand swing that set up Militello for a couple of choruses that disclosed the blues core Harold Arlen put into the song.
The only Brubeck composition of the evening came halfway through the set. It was "Dziekuje (Thank You)," which he wrote in gratitude to Poland for giving the world Chopin. His playing was soft almost to the edge of silence, and he built intensity in his solo not through volume but through development of the piece's exquisite chords. Militello elevated the concentration of feeling, then the quartet brought the piece back to earth. Next, were they really going to play "Melancholy Baby?" No. That was just Brubeck's eccentric choice of a few bars to introduce another song that's almost as old. "Margie" (1920), as modern jazz players as various as Jimmy Rowles and Miles Davis knew, has great chords to blow on, and that's what the quartet did, with Moore delivering a stunning pizzicato solo.
Brubeck must have heard thousands of drum solos on Desmond's "Take Five" since the first one by Morello in 1959. But after he and Militello worked out on the tune and Jones began developing chorus after chorus in his solo, Brubeck leaned forward on the piano and paid attention to Jones's permutations, now smiling, now nodding agreement at some variation. It was a fine solo. Brubeck absorbed it. His concentration on the music, his enjoyment of that moment, spoke volumes about what keeps him going in the fullness of his ninth decade.
Following a huge response to "Take Five," Brubeck told the crowd, "I'm tired and I want to go to bed," and so the quartet's encore was "Show Me The Way To Go Home." They made the most of the song's earthy chord structure and got another standing ovation. Brubeck waved good night, stepped out the 6th Avenue door of Jazz Alley into a waiting car and went off to bed. In the morning, he and the band were driving across the state, headed toward the next one-nighter