Lester Young was born 100 years ago today and died in his 49th year in March, 1959. Billie Holiday called him the president of the tenor saxophonists. His nickname became Prez, and he called nearly everyone else Prez. There is an endless list of musicians who played as they did mostly because of Young. It includes soloists as various as Parker, Artie Shaw, Paul Quinichette, Paul Desmond, Wardell Gray, Dexter Gordon and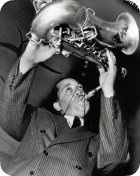 Brew Moore, to name a few of hundreds. Moore carried his discipleship so far as to declare, "Anyone who doesn't play like Lester Young is wrong."
Among Lester's stylistic children are virtually all of the Brothers who came through the Woody Herman band, starting with the tenor players of the first Four Brothers section–Zoot Sims, Stan Getz and Herbie Steward–and continuing with Al Cohn, Bill Perkins, Gene Ammons, Richie Kamuca, Dick Hafer, and on and on and on. No one could count the grandchildren and great-grandchildren because Young's inheritors are players of all instruments, whether or not they are aware of their gifts from him. His way of playing is part of the lingua franca of jazz.
Here are a few observations in a book I wrote called Jazz Matters:
In the early 1930s, Lester Young was removed from the Fletcher Henderson band for not playing like Coleman Hawkins. But from his first recordings with Count Basie in 1936, Young's lightness, buoyancy, rhythmic daring and harmonic subtlety established him as a hero of forward-looking musicians. He provided an evolutionary step between Louis Armstrong and Charlie Parker in the freeing of the jazz soloist from the arbitrary restrictions of time divisions. In his solos, Young flew weightlessly over bar lines. He saw deeply into chord changes. He helped lay the rhythmic and harmonic keystones of bebop.
Young was drafted in 1944, even though he was in bad health and admitted he had used marijuana for the past decade. The Army confiscated his horn, refused to let him play in the camp band, and later arrested him on drug charges. He was dishonorably discharged, but first he was imprisoned for ten months at an Army base in Georgia, an experience with devastating emotional consequences. In spite of his experience in the military, his attempts to recover from its dehumanizing effects, and his efforts to build his own withdrawn world of sweetness and love, Young was capable of playing tenor sax with inventiveness, relaxation and swing never achieved by any other jazz soloist.
Although Louis Armstrong may have been the first soloist to erase bar lines and smooth out jazz improvisation with long, logical, flowing passages, Prez is the man who brought total relaxation to the process and yet managed at the same time to extend the boundaries of rhythmic propulsion. No one had ever done more swinging while creating beautiful ideas.
YouTube does not allow us to embed their video of Lester as featured soloist with the Basie Band at the Randall's Island jazz festival in 1938. He is in the silent film but the sound track dubbed in is one of his great solos with Basie on "I Got Rhythm" chord changes. Click here to see and hear him.
Toward the end of his life, Young's oblique approach to melodies and his ultra-relaxed rhythm could create the impression that he was having trouble finding his way. To the contrary, his habit of lagging behind the beat was the product of assurance and of comfort with his surroundings. There are wonderful instances of that in this new compilation of latterday Lester. But there is no more memorable example than in his 1957 reunion with Billie Holiday, whose deep friendship and musical empathy with Young went back to the 1930s. Creating just twelve uncomplicated bars of music, Prez finds the essence of beauty and the blues. This is the famous "Fine and Mellow" from the 1957 CBS-TVprogram The Sound of Jazz. Ben Webster has the first tenor saxophone solo, Lester the second.
Here is the complete rundown of soloists in that piece.
Billie Holiday (with Doc Cheatham obligato)
Ben Webster
Lester Young
Holiday (with Cheatham)
Vic Dickenson (trombone)
Gerry Mulligan (baritone saxophone)
Holiday
Coleman Hawkins (tenor saxophone)
Roy Eldridge (trumpet)
Holiday
Lester Young, 1909 –