Steve Kuhn, Mostly Coltrane (ECM). Kuhn pays homage to John Coltrane, who briefly employed him in 1960 when the pianist was on the doorstep of his career. His tribute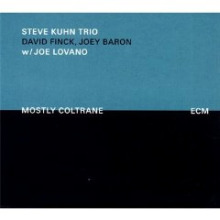 encompasses elegiac, earthy and wildly exploratory facets of the great saxophonist. It may remind listeners that, despite a relatively low profile, Kuhn is a major pianist of our time. His grasp of the nature, or natures, of Coltrane's music is evident throughout. His keyboard touch, his fluidity, the flow and density of his harmonies, the way he supports Joe Lovano, make that plain. Lovano is a saxophonist drenched in Coltrane's spirit who has the technique to summon it without resorting to either mindless direct imitation or the thrashing about that render so many Coltrane acolytes sterile. Bassist David Finck and drummer Joey Baron are connected with Kuhn and Lovano as if by neural attachment. Their accompaniment consists of not merely a carpet of rhythmic support underneath the piano and saxophone, but threads woven into the music.
When I was in New York last month, one of my unanticipated treats was being taken to the ASCAP Jazz Wall of Fame Awards ceremony at Lincoln Center. The posthumous inductees included Coltrane. The artists ASCAP chose to represent his music were Kuhn and Lovano. Their exquisitely slow "Central Park West" was so mesmerizing that when it ended it kept the audience in suspended animation for what seemed a full minute before applause erupted. Judi Silvano, Lovano's wife, was sitting behind me. She leaned over and said, "You see why I married him." The "CPW" here is shorter, marginally faster and doesn't weave quite the spell of the duet that night in the Allen Room, but it is a lovely interpretation of one of Coltrane's most affecting pieces. In addition to "Crescent," "Like Sonny," "Spiritual" and six other Coltrane compositions, Kuhn provides two new pieces, the glistening unaccompanied piano solo "With Gratitude," and "Trance," with an appropriately hypnotic Lovano solo on the Hungarian instrument known as a tárogató.
To represent Coltrane's final days, when he was searching for what he called a "universal sound," Kuhn chose "Configuration," from the 1967 album Interstellar Space. Coltrane's recording was a chromatic exercise that developed into startling bursts of energy exchanges with drummer Rashied Ali. Kuhn's version follows the pattern, with Lovano approximating Coltrane's unbridled free will and passion and Baron demonstrating the full range of technique that he often keeps in reserve. Kuhn contributes a new element, a whirlpool of a piano solo. He is breathtaking in his technical control while taking advantage of the freedom to impose self discipline. Following a few bars of simultaneous improvisation with Lovano, Kuhn makes a spontaneous composition that has form and logic. Elliott Carter, George Crumb or any other modern concert composer might have spent weeks writing it and been happy to have done so. Kuhn creates it on the spot. Art Blakey was fond of saying, "Jazz musicians are the greatest musicians in the world." Kuhn's solo on "Configuration" is supporting evidence for that argument.
Steve Kuhn, Baubles, Bangles And Beads (Venus). Kuhn is one of several prominent pianists recording for

the Japanese label Venus, whose CDs until recently were available outside of Japan only as expensive imports. Now, Amazon.com offers them at moderate prices. In this trio recording, one of several he's done for the label, Kuhn, David Finck and drummer Billy Drummond explore themes by classical composers. Some of the pieces are in their original forms, among them a gutsier approach then we usually hear to Satie's "Gymnopedie No. 1." Kuhn and the trio also play Chopin's "Prelude In C-Minor, No. 20, Opus 28" and Lehar's venerable "Vilia" from The Merry Widow. Other tracks are standard songs adapted from the classics, including the title tune, "Stranger In Paradise," "'Til The End Of Time" and "If You Are But A Dream." Kuhn's waltz treatment of the third movement of the Brahms Symphony No. 3 has an amusing stop-time hesitation in the arrangement and one of several sterling Finck bass solos in the album. I am slightly bothered by Kuhn's frequent use of repeated triplet figures in his right-hand lines, which seems to have become a habit. That is a minor irritant in a CD overflowing with playing marked by lyricism, terrific chord alterations and irresistible swing.
Eric Alexander, My Favorite Things (Venus). Tenor saxophonist Alexander has recorded several CDs for Venus. Here, with the rhythm section he favors, he applies his capacious sound and

modern mainstream approach to "As Time Goes By," "Airegin," "Triste" and "Lover Man" in addition to the Richard Rodgers title tune and other standards. In years of working together Alexander, pianist David Hazeltine, bassist John Webber and drummer Joe Farnsworth have bonded into a tight quartet that avoids coasting even on the most familiar material. Alexander's spontaneous coda to Jobim's "Triste" is a nice surprise. Hazeltine, a complete pianist, is satisfying throughout. He and Alexnder are deep and thoughtful in a remarkably slow "Stella By Starlight," refreshing to hear after that perfect tune's having been converted by too many jazz players into a romp.
From Johnny Griffin With Love (Storyville). The three CDs in this box have some of Griffin's best work for the Danish label. The fourth disc is a DVD with performances by Griffin at New York's Village Vanguard and his fellow tenor saxophonist Eddie Lockjaw Davis at Copenhagen's Jazzhaus Sluketter, both with quartets. In the first CD Griffin is with the

redoubtable rhythm section of pianist Kenny Drew, bassist Niels-Henning Ørsted Pedersen and drummer Arthur Taylor in 1964 at the Montmarte Jazzhouse in Copenhagen. The second disc, twenty years later at the same club, pairs Griffin with Davis, his favorite tenor sax sparring partner. Pianist Harry Pickens, bassist Curtis Lundy and early in his career, drummer Kenny Washington, are the support troops. On his own, Griffin is formidable, blazing with speed, chops and fluid ideas. When he and Davis team up, he becomes even more speech-inflected and, sometimes, confrontational in his soloing. They were one of the most stimulating and exciting horn duos in all of jazz, and their live performance together in this 1964 club date is a highlight of their partnership. With Drew again and with Jens Melgaard and Ole Streenberg on bass and drums in 1989, relatively late in his career Griffin had lost nothing of technique, drive or imagination. Griffin came to love and excel at ballads, and this third disc in the set has moving performances of Ralph Rainger's "If I Should Lose You" and Billy Strayhorn's "Isfahan." It closes with an extremely fast version of Thelonious Monk's "Rhythm-a-ning" that Griffin chooses as an occasion for not only several fearsome choruses but also a series of silly and thoroughly enjoyable whoops, hollers and a few honks.
As the DVD opens, we hear the rhythm section of pianist Ronnie Matthews, bassist Ray Drummond and drummer Kenny Washington wailing on a fast blues in F as we watch pedestrian and auto traffic on Seventh Avenue outside the Vanguard. The camera takes us inside. Griffin launches into chorus after chorus of impassioned playing and Matthews follows suit with some of the best recorded soloing of his career. Drummond and Washington are in the same groove–and the same league. This version of Griffin's "A Monk's Dream," 13-and-a-half-minutes long without a superfluous note, is a triumph. The two tunes on Davis's portion of the DVD, recorded in 1985, feature drummer Ed Thigpen, the stalwart bassist Jesper Lungaard and Niels Jørgen Steen, a fine journeyman Danish pianist. Thigpen and Lundgaard clearly enjoy their relationship, Steen plays good solos, and Davis is at his usual high level, which is to say gruff, warm and swinging. The camera work, direction and sound reproduction are superb. The video is slightly grainy when viewed on a big screen, but that is a minor flaw to which the eye adjusts and is not a problem on an average-sized computer screen. These are honest, ungimmicked, portrayals of jazz bands at work and constitute one of the best jazz videos ever. When the DVD ends, the viewer has been present at two memorable performances.

Hashem Assadullahi, Strange Neighbor (8bells). Assadullahi, a composer and saxophonist who lives in Oregon, bases six of his pieces on "actual and fictional" people in the Texas neighborhood where he grew up. The ten tracks have variety that runs from attractive melodies to free playing, slapstick humor, 1920s German cabaret kitsch and what could pass for part of the soundtrack of an Italian Western. Assadulahi's front-line partner in the quintet is trumpeter Ron Miles, a flexible and imposing presence throughout. The writing, now legato and thoughtful, now pointillist and scattered, is integrated with occasionally unfettered collective improvisation by the horns, guitarist Justin Morell, bassist Josh Tower and drummer Jason Palmer. Miles is from Denver. The members of the rhythm section are stalwarts of the Portland jazz community. This is a substantial debut album for Assadullahi.