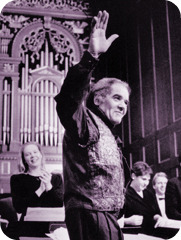 George Russell died Monday night. Here are some of the facts of his life, outlined by the Associated Press.
BOSTON (AP) — Jazz composer George Russell, a MacArthur fellow whose theories influenced the modal music of Miles Davis and John Coltrane, has died. His publicist says Russell, who taught at the New England Conservatory, died Monday in Boston at age 86 of complications from Alzheimer's.

Russell was born in Cincinnati in 1923 and attended Wilberforce University. He played drums in Benny Carter's band and later wrote "Cubano Be/Cubano Bop" for Dizzy Gillespie's orchestra. It premiered at Carnegie Hall in 1947 and was the first fusion of Afro-Cuban rhythms with jazz. Russell developed the Lydian concept in 1953. It's credited as the first theoretical contribution from jazz.
Russell is survived by his wife, his son and three grandchildren. A release says a memorial service will be planned.
The first sentence of that AP story barely suggests Russell's importance. There will be much more written and spoken about him in the next few days by scholars and historians, as there should be. The work he did, particularly in the 1950s and '60s, had major influence on the thinking and performance of musicians who were shaping new ways of approaching the music. On a radio program I did in the sixties, I devoted five weeks of broadcasts to Russell's music. This was the introduction to that series on Jazz Review on WDSU-FM in New Orleans in September and October of 1966.
Over the next few programs we're going to consider the recorded work of George Russell – not only because Russell's music is interesting, absorbing listening, but also because of his influence of the development of jazz in the sixties, an influence, I believe, more profound and widespread than is generally recognized even by many musicians. It may well develop that Russell is having an impact on the course of jazz as great as, or greater than, that of such imitated innovators as John Coltrane and Ornette Coleman.

Russell believes that jazz must develop on its own terms, from within. He believes that to borrow the concepts of classical music and force jazz into the mold of the classical tradition results in something perhaps interesting, perhaps Third Stream music, but not jazz. Faced with this conviction that jazz musicians must look to jazz for their means of growth, Russell set about creating a framework within which to work.

In 1953 he completed his Lydian Concept of Tonal Organization. The system is built on what he calls pan-tonality, bypassing the atonal ground covered by modern classical composers and making great use of chromaticism. Russell explains that pan-tonality allows the write and the improviser to retain the scale-based nature of the folk music in which jazz has its roots, yet have the freedom of being in a number of tonalities at once. Hence, pan-tonality.
That's a brief and far from complete reduction of George Russell's theory, on which he worked for ten years. It's all in Russell's book, The Lydian Chromatic Concept of Jazz Improvisation.

Freedom within restrictions, however broad.
Discipline.

Improvising Russell's way demands great technical skill. Listening to his recordings, one is struck by the virtuoso nature of the players. Some of their names: Bill Evans, Paul Bley, Don Ellis, Dave Baker, John Coltrane, Art Farmer, Steve Swallow, Eric Dolphy. Evans is featured soloist in Russell's 1959 Decca recording, Jazz In The Space Age, the most thorough application of Russell's theories to a large band. If you're not familiar with Russell, all that talk about concepts and theories and pan-tonality and chromaticism may have led you to expect something dry and formidable. On the contrary, there's a sense of fun and airiness in the music. The humor is subtle, but it's there. And, I should add, it's more evident after several hearings.
For five Saturdays, engineer Charlie Flatt played and I talked about Russell's music, reaching back to 1947 and his "Cubano Be-Cubano Bop" for Gillespie and up to his 1963 quintet album The Outer View. The survey included the classic "All About Rosie," commissioned by Brandeis University in 1957, the smalltet recordings for RCA, Russell's series of Riverside albums and the remarkable suite New York, New York, a 1959 work that brought together, among other players, Evans, Coltrane, Bob Brookmeyer, Art Farmer, and Phil Woods, all interesting young musicians who went on to be among the most influential in jazz.
For a sense of Russell and New York milieu in which he operated in the late 1950s, video of a 1958 edition of The Subject Is Jazz brings together several of the musicians who played his music. It includes a version of Rusell's "Concerto For Billy The Kid," with a Bill Evans solo not as electrifying as the one on this recording. Nonetheless, it presents Evans in the context of Russell's work, and it is followed by critic Gilbert Seldes interviewing Russell about his concept. The program also has two pieces featuring Billy Taylor. If you stay with it for all 24 minutes, you'll see credits for the musicians. And, yes the trumpeter identified as Carl Severinsen is Doc Severinsen. You may never have thought of him as a bebopper, but listen to those solos.
Was George Russell a force in opening jazz to greater freedom In the late fifties and early sixties, as I suggested 43 years ago, or did his Lydian Chromatic Concept synthesize ideas that were already in the air? Some of each, perhaps. Either way, he created some of the most stimulating music of his day, up to, including and beyond his collaboration with avant garde trumpeter Don Cherry. I am less enchanted with his later electronic works, but I'm going to dig them out and give myself another chance with them. After all, it's George Russell; there may be more than met the ear the first time around.
Following that 1966 series of radio programs about Russell, I sent him a transcript, not knowing whether he would ever see it. I heard reports from New York that he was discouraged and had left the US to live in Europe. A few months later he sent me a letter from Stockholm.
It is like I have waited a lifetime to hear someone say the things which you did concerning my music (and if I never hear them again I will not feel that my efforts in jazz have gone unrewarded). I received the transcript at the right moment, too, for I was in one of those states of flux that I've come to accept as a necessary but painful part of artistic growth. It is very trying during these times to keep one's self-confidence and I must admit that my morale was sagging more than a little bit. But your sensitive views of my music worked wonders.
Closing a long letter, Russell wrote that he hoped we would meet one day. We never did.
(For an obituary containing insights into Russell's methods see the article by Brian Marquard and Michael Bailey in today's Boston Globe)