The following article appeared in the Fall, 2008, issue of the British magazine, Jazz Review.
By Doug Ramsey
Lester Young drew on Louis Armstrong, Frank Trumbauer, Bix Beiderbecke and his own genius to create one of the most personal styles in music. In the 1930s he provided an evolutionary step between Armstrong and Charlie Parker. Flying weightlessly over bar lines, Young helped to free the jazz soloist from the arbitrary restrictions of time divisions and showed the way to the rhythmic and harmonic foundations of bebop. He became a hero of forward-looking musicians of several decades. Billie Holiday, his friend and musical alter-ego, called him the president of tenor saxophonists. His nickname became Prez.
More than seventy years after his first recordings with Count Basie, Young's buoyancy, harmonic subtlety, flexibility with rhythm and distinctive tonal qualities keep his playing alive and fresh. Time has been less kind to one of the tenor saxophones that Prez used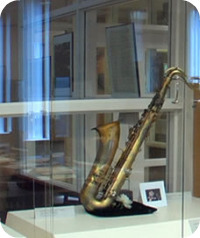 to make his music. In the course of his career, his main horn was the Conn he played with Basie. His second was a tenor presented to him in the 1950s in France by the Dolnet company, which had made reed instruments since 1888. He played it in the few years before he died.
The Conn is enshrined in the Institute of Jazz Studies at Rutgers University in Newark, New Jersey, side by side with Billie Holiday's artificial gardenia and a certificate of authenticity signed by Young.
TO WHOM IT MAY CONCERN:

This Conn saxophone, number 444,4444, is the saxophone I used with the Count Basie band in 1936 and later. With this horn I recorded "Twelfth St. Rag," "Song of the Islands," "Lester Leaps In," and "One O'Clock Jump"–among other numbers.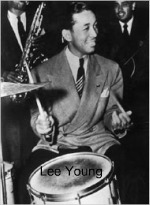 Young's Dolnet tenor sax fared less well.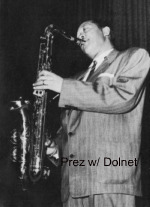 Following his lonely death at forty-nine in 1959 from the effects of alcoholism, the horn went to his younger brother Lee, successful in Los Angeles as a drummer, studio musician and music director for Nat King Cole. Lee Young consigned the horn to his basement, where it remained until after he died on July 31, 2008, at the age of ninety-one.
Among Lee Young's friends in the L.A. music community was Dave Pell, one of a legion of tenor players idolizing Lester and patterning their playing on his. Like Stan Getz, Zoot Sims, Frank Wess, Al Cohn, Brew Moore, Alan Eager, Paul Quinichette and dozens of other tenor players, Pell emulated Lester's tone, harmonic approach and melodic concept in improvisation. In the early 1950s he formed the Dave Pell Octet, recruiting as sidemen fellow members of Les Brown's popular dance band. The Brown band had jazz leanings that Pell expanded in the octet. As west coast jazz was on the rise, Pell's group blazed no trails but recorded a substantial series of albums with excellent playing by the Brown troops, including superb solo work by the trumpeter Don Fagerquist and plenty of solos by Pell. Other Los Angeles musicians who appeared on the octet's albums over the decade included Art Pepper, Jack Sheldon, Bob Gordon, André Previn, Pepper Adams, Mel Lewis and Bob Enevoldsen. Shorty Rogers Bill Holman and Jerry Fielding contributed to the band's book.
Through the 1960s and '70s, Pell worked as a musician in the Hollywood studios and as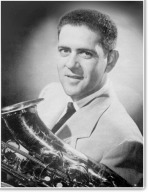 a producer who oversaw the recording of more than 400 albums. In 1978, his love for Lester Young resurfaced in the form of a band devoted to his hero's music. He called it Prez Conference, after a piece that Holman had written for the Stan Kenton band. The group recorded two albums for GNP Records. One featured Joe Williams singing songs that Young recorded. Pell, two other tenors and a baritone saxophonist played classic Prez solos on the pieces, orchestrated by Holman for the four horns.The other long-playing record had the same approach, without Williams but with trumpet solos by Young's Basie band mate Harry "Sweets" Edison. The albums sold well. The band appeared at the 1979 Monterey Jazz Festival and played on a package tour of Japan with the Modern Jazz Quartet and the Hi-Los. Fifteen tracks from the two albums are reissued on a GNP CD, Prez And Joe.
Pell's friend and golfing buddy Lee Young followed Prez Conference' progress, attended its performances in the L.A. area and occasionally sat in for its drummer, Frank Capp.
Pell, now eighty-three, recalled, "We had a regular golf game with Lee, his son Junior, and a bass player we found named Ray Brown, who was a golf nut, too. We'd play a foursome every Friday morning. I couldn't play as well as these guys, but I'd go along just to hear the Lester Young stories. Lee would always say, 'You know, I'd love to give you the horn.' I'd say, 'Well, give it to me.' And he'd say, 'I can't. Lester's children want the horn. They want to put it in a museum'
"When Lee died, Lee, Jr., called me and said, 'Come and get the horn.' Lee willed it to me, but when I die it goes back to the Young family. They're okay with that. They know it should be played. And I'm going to learn to play it, no matter how badly it behaves."
That presented a challenge. When Pell got the horn, he was shocked at what more than a half-century of basement damp had done to it.
"It had fifty-six years of rust," he said. "I took the thing home, and I said, 'Gee, maybe I can play the mouthpiece.' The mouthpiece plays just sensational. Just perfect. It sounds like Prez," he laughed.
Pell took the Dolnet to Steve Smith, a saxophone technician at United Band Instrument Company in Los Angeles, hoping to have it back in time to play it at a Prez Conference revival concert at the San Jose Jazz Festival in August (of 2008).
"Steve looked at me and said, 'You won't get this back for two or three months.' The rust on the horn itself comes off easy. You just dip it in solvent and all the rust disappears. But where the screws go in the sockets, it's another matter. When I called him after one week and said, 'How's it going?' he said, 'I've done six screws.' So, it's really going to be a project."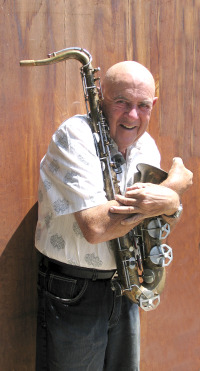 Pell used Lester's mouthpiece at the San Jose Festival. "All the saxophone players there came over and asked if they could touch it," he said with a smile. For the occasion, Prez Conference included its original drummer, Frank Capp; the young Los Angeles pianist John Proulx; bassist John Shifflet; and three northern California saxophonists, Kris Strom and Matt Kesner on tenor and Aaron Lington on baritone. They played the Holman arrangements, with coloratura soprano Bonnie Bowden on some pieces doubling the lead parts an octave higher. Pell says that he, the band and the audience were delighted with the success of the concert.
The rebirth of Lester Young's horn has inspired a new phase in the career of his octogenarian disciple. When Prez's Dolnet tenor is back in commission, Pell plans to record it in a new CD with the reconstituted Prez Conference and take the band on the road.
(Only the photo of Lester Young's Conn tenor saxophone appeared in the Jazz Review article.)