A few days short of a year ago, I told you about four 19-year-old musicians worth keeping an ear on. Three of them were the Uptown Trio, who appeared in concert supporting the gifted alto saxophonist Logan Strosahl. I wrote:
Anyone keeping a future file would do well to add those names. If these players keep developing at their current pace and intensity, it is likely that we'll be hearing from them.
I remarked in the review that pianist Sam Reider, bassist Jeff Picker (his real name) and drummer Jake Goldblas were taking the business aspect of their careers into their own hands, contacting clubs and lining up tours. Good young players not adopted by record companies and booking agents must do that to get work.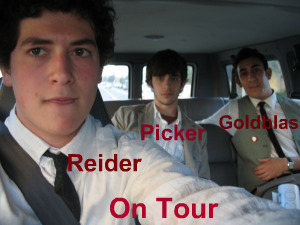 The Uptown Trio, based in New York, has arranged a west coast tour early next month, with dates at important clubs in Los Angeles, Oakland and Portland. To see their schedule and hear a bit of their music, go here.