You never know where jazz stories will materialize. This week, one about Dizzy Gillespie's hometown showed up in the travel pages of The Philadelphia Inquirer. The article by Jay Clarke of the Universal Press syndicate makes it clear that Cheraw, South Carolina, has not forgotten about its famous son; far from it. Two excerpts from Clarke's story:
Dizzy Gillespie's home no longer exists, but the site has been converted into a small park, decorated with unusual stainless-steel sculptures. One is a fence cut into the shape of a musical staff, with musical notes to Gillespie's signature work, "Salt Peanuts." A couple of others take the outline of Gillespie's trademark bent trumpet.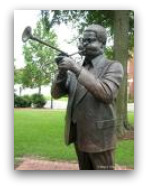 Downtown, a bronze statue of Gillespie, with his puffed-out cheeks and bent horn, stands in the Town Green, close to Centennial Park, where most concerts of the annual jazz festival are held. This year's fete will be Oct. 16-18.
The piece is not exclusively about Gillespie. It also covers Cheraw's Revolutionary War and Civil War history (General Sherman slept there) and its importance in the heyday of cotton. To read the whole thing, go here. There's more detail about Gillespie and the town on Cheraw's web site.
For an excellent biography of Gillespie, read Alyn Shipton's 1999 Groovin' High. Shipton discloses that in the late 1950s on one of Dizzy's many visits to Cheraw, he learned that his great-great-grandfather was a West African chief and it was likely that his great-grandfather was the white slave holder who owned Gillespie's grandmother. Gillespie's comment on that information: "That's all over the South, you know." The focus of Shipton's book, however, is less on family history than on Gillespie's music, with detailed accounts of its content and development.
For a Rifftides remembrance of Gillespie and a video clip of him playing "Tin-Tin Deo," click here.