Sometime in the final decade of the last century (man, that's beginning to sound like a long time ago) I was on assignment in Portland, Oregon, and dropped into the restaurant of the elegant Heathman Hotel to hear pianist Dave Frishberg and singer Rebecca Kilgore. A cornetist was sitting in with them that night. On the spot, Jim Goodwin became one of my favorite living players of the instrument. His solos had echoes and intimations of Bix Beiderbecke, Louis Armstrong,

Ruby Braff, Max Kaminsky and Wild Bill Davison. He wrapped all of that into a style of great individuality, intimacy, forthright conviction and humor. You can hear it in Double Play, his 1992 duo album with Frishberg. Goodwin was fairly well known in traditional jazz circles, but his playing had a universal quality that should not relegate him to a pigeonhole.
I say "had" because Goodwin died, far too young, last month. Frishberg wrote an obituary of the friend whose work he championed and offered it to Rifftides. I don't know where else it was published, but I'm delighted to present it here. I am including Dave's information at the end, in italics, about donations and a party. I think Jim would have approved of a party.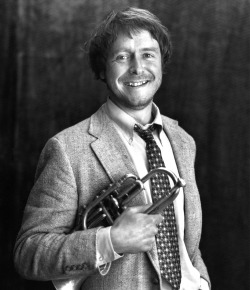 JIM GOODWIN OBITUARY

James R. (Jim) Goodwin, the son of Katherine and Robert Goodwin, was born March 16, 1944 in Portland, OR, and died April 19, 2009 in Portland. Jim was a natural musician with no formal training. Practitioners and admirers of traditional jazz on both sides of the Atlantic have long regarded him as somewhat of a legend, and his heroic cornet playing, influenced by Louis Armstrong and Wild Bill Davison, was warmly appreciated by his musical colleagues as well as by audiences who listened and loved it.
Jim was a star first baseman at Hillsboro High– a left-handed line-drive hitter. After high school he served in the Oregon National Guard, then trained on Wall Street for a career in finance, returned to Portland, joined Walston & Co., and became for a time the nation's youngest stockbroker. Jim then put aside the financial career and began to devote his life to playing jazz on the cornet.
During his forty-year career as a cornetist and pianist, Jim had long residencies in Breda, Holland and Berkeley, California, as well as in his home town of Portland. He played with many prominent musicians of the "old school", including Joe Venuti, Manny Klein, Phil Harris, and Portland's Monte Ballou (Jim's godfather). He toured extensively in Western Europe and became probably better known there than in the US. During his long residence in the Bay Area he played regularly at San Francisco's Fairmont Hotel and at Pier 23, as well as in three World Series with the Oakland A's pep band. Before his recent return to Portland, he spent several years living in rural Brownsmead, OR, near Astoria.
Jim became a pioneer in the Portland micro-brewing industry when, together with Fred Bowman and Art Larrance, he established the Portland Brewing Company. During the 1990s he and Portland pianist Dave Frishberg played regular duet performances at the company's Flanders Street Pub, and the two made an internationally acclaimed CD on the Arbors Jazz label.
In recent years Mr. Goodwin was on the Board of Directors of Congo Enterprises, and he served briefly as CFO of that company, leaving office months before the scandal became headline news.
**********************
Forest Park was very dear to Jim. He spent a lot of time there hiking and running.
Donations can be made to:
Forest Park Conservancy
1507 NW 23rd Avenue
Portland, OR 97210
Tel: 503-223-5449
Include a note stating that the donation is "in honor of James Goodwin".
Donations may be made online at www.forestparkconservancy. A space is provided to enter the honoree's name.
There will be a party honoring Jim on Saturday, September 19th. For more information contact Retta Christie.