Comments are still arriving about Bill Kirchner's list of recommended big band recordings since 1955. You will find the original item here and followups here. Not all of the comments are coming to Rifftides. As discussions will in the internet age, this one gravitated to other sites.
Here is a little of what the unfailingly provocative young composer and bandleader Darcy James Argue wrote on his Secrety Society web site.
The thing is, there's an awful lot of bigband music that is important to the history of jazz that doesn't really do a whole lot for me. I'm afraid this would include a s— -ton of music that is beloved by true bigband connoisseurs. For instance, I know this sounds heretical, but most of Count Basie's output after Jo Jones left the group leaves me totally cold. Also, I've never really been able to develop much affection for the various Stan Kenton bands, etc, even when I respect the craftsmanship and inventiveness of some of the writing.
The stuff I like best and respond to viscerally and have invested time in studying in detail really represents only a small corner of the vast bigband universe. The center of this solar system is definitely the Thad Jones-Mel Lewis Orchestra — especially the first edition of the group with Richard Davis on bass. This has been my favorite bigband since I was thirteen years old.
If Darcy wants to make "big band" one word, he'll just have to deal with the usage police. To read all of his entry, which includes recommendations of his own, go here. His readers chime in with provocative comments of their own.
On Do The Math, Ethan Iverson, pianist of The Bad Plus, rambles engagingly with the big band discussion as a sort of touch stone. Here's part of his rambling.
I didn't come from a family interested in music. We had a record player but hardly any records. However, my aunt and uncle had a small collection of 60's-era stuff, and when we visited them I would head straight to their living room and start spinning platters. The two discs that just astounded me were This Time By Basie: Hits of the 50s and 60s and Boogie Woogie Piano Stylings by Art Simmons.
(Simmons isn't well-known; I haven't heard his record in about 25 years. In fact, I had forgotten entirely about Boogie Woogie Piano Stylings until today. Within a few minutes of reading Darcy's post, I found and purchased a copy on eBay for a slight sum. Looking at this fabulous cover art really takes me back.)
After realizing that I always played them over and over, my relatives let me borrow the Basie and Simmons records so that I could tape them on my home reel-to-reel player.
Perhaps my younger readers don't know what a reel-to-reel player is. The picture at the top of this post might look like serious studio equipment – and maybe it is, high-end ones are still used – but the one in my house looked just like that and was merely the clunky predecessor to the compact cassette tape. A reel-to-reel tape deck was the only common way to tape an LP before about 1970 or so.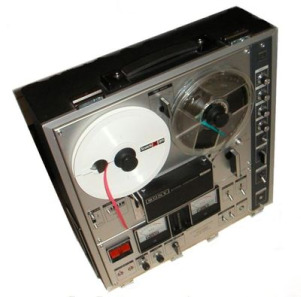 I stole Ethan's picture of the old Sony reel-to-reel machine. Iverson does get back to the matter of big bands. To read his entire entry, click here.
I still have the Revox reel-to-reel I inherited from Paul Desmond and use it frequently. I wish that some of my newer components were of Revox quality.