Dena De Rose and Marvin Stamm, The Nearness Of Two (Teatro Della Muse). On the heels of De Rose's splendid new trio CD comes the stealth release of the pianist and singer's impromptu partnership with Stamm. She and the trumpeter found themselves in the ancient town of Ancona on Italy's Adriatic coast. A jazz festival producer, Giancarlo Di Napoli (he's Italian), suggested that they do a concert. Stamm and De Rose had never played together until that evening. Indeed, De Rose had never performed in duo with a horn player. They agreed on a repertoire but had no rehearsal. They played in a small hall to open the 2006 Ancona Jazz Festival. Di Napoli recorded the concert. The result is a CD preserving a brilliant instance of what can happen when two improvising musicians meeting for the first time draw on a common language. To digress only slightly, here's a paragraph from Jazz Matters: Reflections on the Music and Some of its Makers:
Like every art form, jazz has a fund of devices unique to it and universally employed by those who play it. Among the resources of the jazz tradition available to the player creating an improvised performance are rhythmic patterns, harmonic structures, material quoted from a variety of sources, and "head arrangements" evolved over time without being written. Mutual access to this community body of knowledge makes possible successful and enjoyable collaboration among jazzmen of different generations and stylistic persuasions who have never before played together. It is not unusual at jazz festivals and jam sessions for musicians in their sixties and seventies to be teamed with others in their teens or twenties In the best of such circumstances, the age barrier immediately falls.
Whatever the age difference between Stamm and De Rose, in their collaboration there is not so much as the hint of a barrier. To the contrary, they delight in reaching into that universal fund of devices and employing them to surprise and challenge one another and themselves. It is a journey of discovery that lasts more than an hour, and there is not a lackluster moment.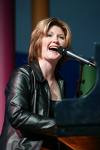 The musicianship of women who sing, regardless of their instrumental excellence, is often taken for granted. From the beginning here, De Rose's playing on "There Is No Greater Love' obviates any suggestion that she is less than superb as a pianist. Accompanying Stamm, soloing, and engaging in fanciful exchanges with the trumpeter, she is magnificent. She does admit a small defeat during a round of trading four-bar phrases. After Stamm makes his horn growl lustily, she says, "No fair; I can't do that." Otherwise, it's an even match. Seven minutes into the second track, "Corcovado," when she sings her first notes of the concert, it comes as a mild shock to the listener intent on her improvising to realize that this angelic vocalist is the pianist who has been swinging like crazy while rolling out a carpet of rich chords that might make Jobim wish that he had thought of them. I must also observe how effective a dramatic device it is when a good singer makes her appearance only after the band–in this case De Rose and Stamm–has set the stage. That was routine practice in the swing era. It died out after singers emerged from the ranks of sidemen and sidewomen to become featured attractions and more or less take over popular music.
Stamm has perfected the art of playing quietly without sacrificing facility, tone, range or
expressiveness. Throughout, he executes stirring doubletime passages at the volume of an intimate conversation. His muted solo on "In The Glow of the Moon," a song De Rose wrote with Meredith d'Ambrosio, is just one memorable instance. Another is the counterpoint he initiates in "I'm Old Fashioned." De Rose scats in parallel with her single-note piano lines while the two alternate fours and intertwine melodies with such complexity that any annotator would have to labor long and hard to get them down on paper. A peak of fascination and excitement comes in the blues, Thelonious Monk's "Straight, No Chaser," begun by Stamm, reflective and unaccompanied. It melds into a brisk tempo that launches De Rose into several rollicking choruses, Stamm into several more, and the pair into a succession of their mirror-minded exchanges, then a flying final unison statement of Monk's famous chromatic melody.
There is more; deeply felt performances of "The Nearness of You" and "Imagine;" Stamm soaring on piano updrafts among the heights of the minor intervals in Berlin's "How Deep is the Ocean;" a loving treatment of Clifford Brown's "Joy Spring."
Somewhere back there, I referred to the stealth release of this gem. It is on a small, nearly private, label connected with producer Di Napoli's theater. It is unlikely to show up in your corner record store (as if there were any left), or on Amazon and Barnes & Noble. It is beginning to look as if it is already becoming a collector's item, offered on ebay at an inflated price. This CD deserves a long life and perpetual availability. The realities of the record business being what they are, if I were you I'd grab it while it's still around.