Since Rifftides began nearly four years ago, I have posted frequently about Ben Webster – but not frequently enough. That would be impossible. Few improvising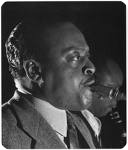 artists have achieved Webster's level of supremacy at speaking their pieces with eloquence and brevity. I would not suggest that eloquence has fled; it is possible to be eloquent at length. But in the post-Coltrane age of solos as tests of endurance it may be unnecessary to point out that succinctness is not one of the guidelines in most jazz playbooks. Webster is an antidote to the ennui induced by long-windedness.
This year is the 100th anniversary of Webster's birth. You may count on my finding every opportunity to call to your attention the art of that incomparable tenor saxophonist. This is a link to a recent piece that addresses a reader's distress with a tenor saxophonist who pays tribute to Webster. It also leads you to video of a heartbreakingly beautiful Webster ballad performance and a series of comments from Rifftides readers. This link takes you to a piece from 2005 in which a woman who is neither a musician nor a critic encapsulates in a sentence the essence of Webster's musical persona.
Here is Webster in two videos that materialized on YouTube just last November. He is with Oscar Peterson, piano; Niels-Henning Ørsted Pedersen, bass; and Tony Inzalaco, drums. The first piece is the blues he called "Poutin'." The second is "Sunday," one of his favorites for decades. This would seem to be early 1970s. Webster died in 1973.