Rifftides reader and occasional correspondent Red Colm O'Sullivan writes from Ireland (where else, with a name like that?): 
And here's another frequently used term that has no meaning whatsoever: "Hard Bop". I have NO IDEA what that MEANS (as opposed to supposed to mean).

That brought to mind something I wrote for a 2000 compilation CD on the Savoy label. The two-disc album was called
The Birth of Hard Bop
. It was made up of music recorded in 1956 by groups under the leadership of Donald Byrd, Lee Morgan and Hank Mobley. Among the players are Horace Silver, Kenny Clarke, Arthur Taylor, Barry Harris, Doug Watkins and three people who could by no stretch be considered hard boppers — Hank Jones, Ronnie Ball and John LaPorta. The essay begins:
The urge to put ideas in boxes will not be denied. Accordingly, one day in the early 1950s someone, presumably a critic, dreamed up a box called "hard bop." The inventor no doubt intended the term to be a synonym for "soul" and "funk." He or she may also have meant it to distinguish jazz played primarily by black people on the East Coast from jazz played primarily by white people on the West Coast. It seemed important to critics in those days to make that distinction. To some, it still seems important. At any rate, "hard bop" came to signify jazz that had rhythmic drive, leaned on blues harmonies, drew inspiration from church gospel music and was hot, not cool. 

Unfortunately for box theory, try as you will to contain music, it flows around, into and out of boxes. Strict hard bop constructionists cannot force this album's lyrical "I Married An Angel" into the category with any greater justification than they can jawbone Clifford Brown's "Daahoud" (the Pacific Jazz version) into the shape of West Coast Jazz. Nearly half a century later, the music in this collection swings on in the category that matters most: the one labeled "Good."
The notes then discuss the musicians and the 21 tracks on the CDs. 
At the end, the reissue's producer, Orrin Keepnews, jumps in with a postscript that reads, in part:
…So it is quite possible that there never really was a musical style that could properly be described a "hard bop." However as Doug's not quite tongue-in-cheek essay reminds us, there was a powerful music developing in the mid-fifties. I lived and worked in the New York area during that time span, so I was thoroughly immersed in it throughout its early development. I know that I continue to think of this music as "hard bop" whenever I think back on it (which is often), and when I heard it still being played by many of today's best young jazz people, which is also quite frequently. 
…I join Doug Ramsey in not giving a damn about the legitimacy of the terminology, because what really matters is that the music itself was among the most legitimate and exciting jazz ever created. – O.K.
As always, your thoughts on this or any other topic are welcome. Use the "Comments" link below or the "Contact Me" link in the center column.
By the way, since Keepnews is involved in this post, if you think that jazz critics and writers are a dour, humorless bunch, here is irrefutable evidence otherwise.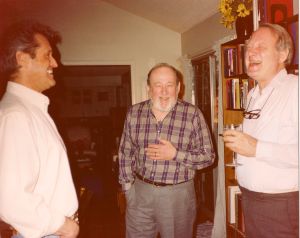 Ramsey                   Keepnews           Dan Morgenstern
This was several years ago, but we're still laughing.