Today is the 70th anniversary of Blue Note Records, and — what a coincidence — I have at hand an advance CD by the Blue Note 7. That is the all-star band of Blue Note artists on 

the verge of a three months tour to celebrate the longevity of a company that has made a difference in music. The tour opens Thursday evening at the Moore Theater in Seattle. Friday, the band will be across the Cascade mountains in Yakima, Washington, at The Seasons Performance Hall. I will be there, listening intently after having the pleasure of introducing the band. It is my intention to give you a report reasonably soon after the event. For a list of cities and dates of the tour, go here. 
With pianist Bill Charlap at the helm, the other all-stars are guitarist Peter Bernstein, tenor saxophonist Ravi Coltrane, drummer Lewis Nash, trumpeter Nicholas Payton, bassist Peter Washington and alto saxophonist Steve Wilson–a cross-section of the cream of the modern jazz mainstream. Their
new CD, titled Mosaic
, includes that Cedar Walton composition and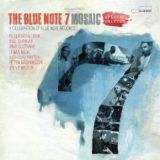 pieces by Horace Silver, Herbie Hancock, Thelonious Monk and other musicians associated with Blue Note through the years. A companion disc, contains the original recordings of the pieces from the Blue Note archive by Monk, Hancock, Joe Henderson, Art Blakey, McCoy Tyner, Grant Green, Horace Silver and Bobby Hutcherson. 
As I
have emphasized
here on
more than one occasion
, medium-sized bands can provide some of the greatest satisfactions in jazz. The arrangements of eight modern classics by members of the band and pianist Renee Rosnes (Mrs. Charlap) add to the successes in the genre. They respect the originals while introducing new touches–a bit of note-bending in the line of Hancock's "Dolphin Dance," the full-bodied orchestration of Grant Green's theme in "Idle Moments," a feeling of suspended animation leading into the main section of Joe Henderson's "Inner Urge." As for soloists, these are some of the best of their generation. They perform accordingly. Payton 
impresses me more with the content of his improvisation on this record than anything I have heard from him in years. His solos here have the story-telling quality that separates first-tier jazz soloists from the herd. Charlap achieved that literary attribute long ago, but
on some of these tracks he gets into an edginess, particularly on Monk's "Criss-Cross," that adds an element he has seldom displayed. Maybe it's Monk's spirit that brings out chance-taking; Payton and Wilson also dive in with abandon on this piece. 
Well, it's all good, and I look forward to hearing what the Blue Note 7 have added to the repertoire since they made this album last year.