Bill Ramsay is a veteran saxophonist widely admired in jazz circles
across the US but little known to the public outside the Pacific Northwest.
Accomplished on alto and baritone saxes,he co-leads the Ramsay-Kleeb band and
is the baritone sparkplug of the Seattle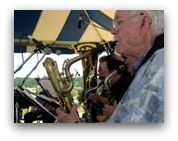 Repertory Jazz Orchestra. Ramsay has
been a first-call sub on the Count Basie band for decades.  His good-natured jousting partnership
with tenor saxophonist Pete Christlieb never fails to produce hard swing and spontaneous
standup comedy.
Ramsay celebrates his 80th birthday this month. Jim Wilke
will observe the occasion on his Jazz Northwest radio program on Sunday, January
4 at 1:00 p.m. Pacific time, 4:00 p.m. Eastern.  Wilke will include previously unissued music by Ramsay's big
band, recorded in 1961. To hear the program in the Seattle-Tacoma area, tune in
KPLU at 88.5 FM. To hear it on the internet, go here.  
Ramsay and I are not related — except by mutual interests. Whenever I encounter him, he tells me to correct the spelling of my last name and I tell him to correct the spelling of his.