Jack Nimitz, Yesterday And Today (Fresh Sound). "Yesterday" was 1957, when the distinctive baritone saxophonist recorded a long-playing album for ABC-Paramount. The LP sat unissued for half a century. "Today" was early last year, when Nimitz went into the studio to record new music to add to the 1957 material and round out a compact disc. Nimitz's tone has more heft and his soloing more aggressiveness than fifty years ago. In both instances, his playing is superb.
In New York in '57, his front-line partner was Bill Harris, the eccentric and endlessly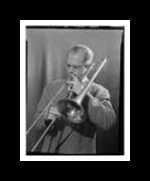 inventive trombone hero of several editions of the Woody Herman band. Among the players in the pianoless rhythm sections were bassist Oscar Pettiford, drummer Don Lamond and, in separate sessions, guitarists Kenny Burrell, Jimmy Raney and Chuck Wayne. Bob Zieff wrote arrangements for the two horns and a five-man string section that included Harry Lookofsky and other leading studio players of the day. It is puzzling that Zieff, noted for an advanced compositional style and the unusual pieces he created in the fifties for Chet Baker, gave the string writing here little of the harmonic astringency and complexity of line for which he was known. It was a missed opportunity. No matter; with superlative rhythm section support, Nimitz and Harris are unhampered, even gleeful, in their solos on "Somebody Loves Me," "Softly as in a Morning Sunrise" and seven other standards. Their hand-in-glove exchanges and intertwining on several pieces are a joy.
Nimitz's foil In the 2007 session is Adam Schroeder, a young baritone player based in Los Angeles, as Nimitz has been for decades. Schroeder's tonal quality is close to Nimitz's latterday sound, but his conception seems to reflect that of Pepper Adams, and the contrast makes it fairly easy to tell them apart. If anything, Nimitz has gained pzazz in his later years. He frequently reaches into the baritone's sub-basement for deep tones that challenge your woofer, and is likely to leap into tenor saxophone range for bursts of lyricism. As in the earlier session, most of the material is standard songs or originals based on them. Mike Barone's sprightly "Waltz This" is an exception.
Toward the end of "More Friends" ("Just Friends"), the two baritones indulge themselves in a chorus of unaccompanied counterpoint that is as much fun to hear as it must have been to play. There is more of it on "It's You or No One." Nimitz's stately ballad playing on "Polka Dots and Moonbeams," with a couple of Serge Chaloff references, is a highlight.The only strings on this occasion were those of the superb bassist Dave Carpenter in one of the last recordings before his death in June at the age of forty-eight. John Campbell is the pianist, Joe La Barbera the drummer, rounding out a first-rate rhythm section. This is a rare and welcome release, a recording led by Jack Nimitz in the middle of one century and the beginning of the next.