Continuing its good tidings, the Hirshhorn Museum in Washington, D.C., just announced a special acquisition: As disclosed in an article I wrote for The Art Newspaper, which was published last week, the Hirshhorn has bought Yayoi Kusama's very first Infinity Room, called Phalli's Field, which she made in 1965.
The acquired work is a reconfiguration of that piece–whose elements were taken back to Japan and the piece deconstructed long ago. Kusama reconceived it for the international traveling exhibition of her Infinity Rooms, which was organized by the Hirshhorn.
When Kusama made the piece in 1965, it was a breakthrough. As I wrote for TAN: "For two years she had been sewing and stuffing dozens of cotton protuberances, painted with red polka dots, attaching them to chairs and other objects, and grouping them to evoke a terrain of phalluses. But the labour was intensive, and she alighted on the idea of using mirrors to achieve the desired effect."
Read the entire story, which is fairly short, here.
The 2017 reconfiguration of Phalli's Field took what had been shown in open space and put it in a room, like the Infinity Room pieces that followed it.
Here's what it looked like in 1965, with Kusama enjoying it: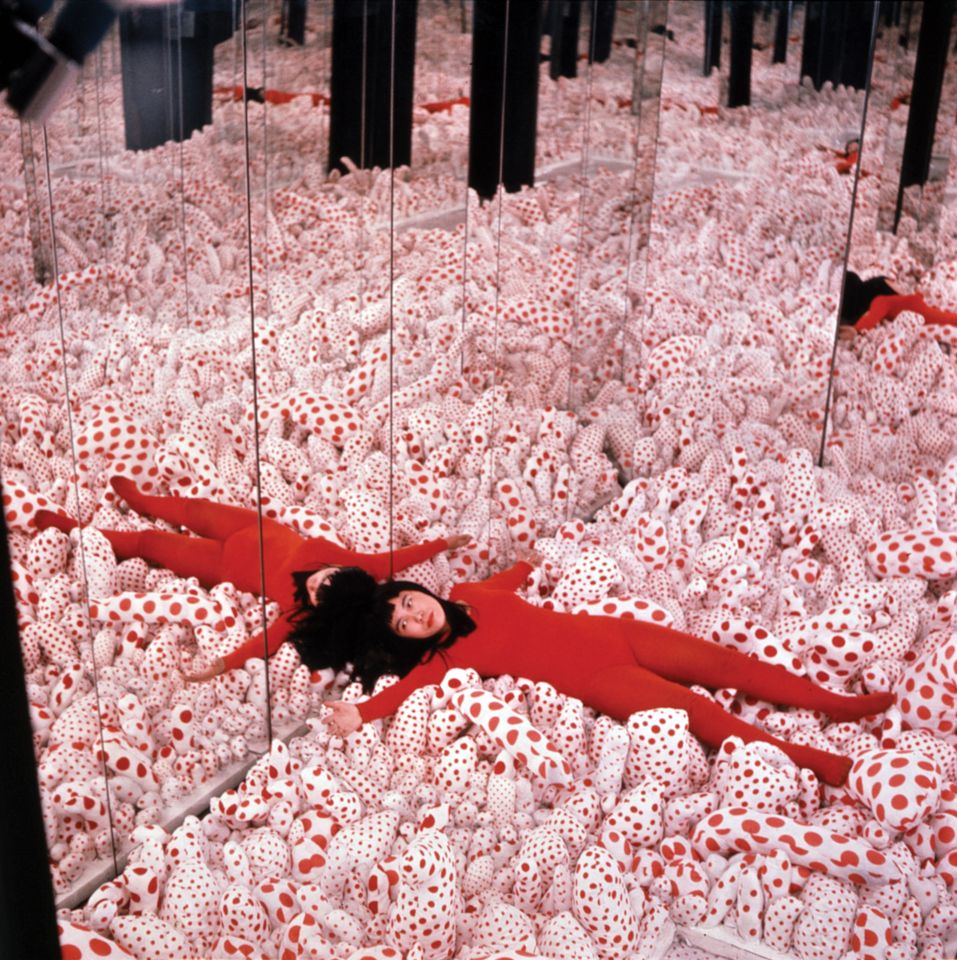 As I alluded in the opening line of this post, the Hirshhorn benefited from the Kusama show, not least because it raised the museum's profile in both Washington and around the country. It enabled director Melissa Chiu to attract new trustees, who–it is to be hoped–will provide more support for the museum. And it helped push the museum's attendance to a record last year, past the 1 million mark. "[Kusama] and her work attracted visitors that had never come to the museum before," Chiu told me.
"It has had a lasting effect on public awareness of the museum," she added. "For us it was a complete game-changer. People said to me 'I never thought I'd see lines outside the Hirshhorn.' "
That all got Chiu thinking: Since Kusama has such a great impact, Chiu decided to acquire this piece, and she spent the museum's own money–it was not a donation–on it.