Put yourself in the position of a member of the Metropolitan Museum's search committee: Despite all the pressure to choose anyone but another white male–somewhat wrong-headed pressure, imho–I think you'd have picked Max Hollein (at left) to be the next director of the museum too. For many reasons–as I will outline.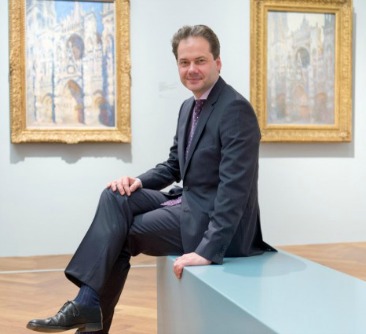 I've commented favorably and specifically about Hollein here before–let me go through some of those posts quickly.
In 2012, I noted the way he had expanded the Städel Museum in Frankfurt to accommodate modern/contemporary art. I cited four reasons, including his approach to fundraising. At the time, I had not seen the addition, but last year I did visit Frankfurt and I saw it. While I know that some people, some curators, do not like it–one told me it looked too much like a shopping center–I disagree. It is a bit white-boxy, but so are most contemporary art museum that were built from a scratch. This one was inserted underground. I think it is about the best suite of galleries that could have been built on that spot.
In 2013, I cited the Städel's exhibition for Hans Thoma, a once heralded but lost forgotten artist born in 1839. As wrote then:
I commend the Städel for going against the crowd, digging into its collection — it owns nearly ninety paintings and several hundred works on paper by Thoma — and showing an artist that seems so retro. Max Hollein, the museum's director, said he was doing it because Thoma, "in his day, played a central role in German art and society."
In 2014, I called attention to two articles, one interviewing Hollein, one Philippe de Montebello, on the job of a museum director. Aside from offering a pretty good (short) definition, Hollein appropriately mentioned local context.
In 2016, when he was appointed to his post at the Fine Arts Museums of San Francisco, I called attention to a video that also outlines his views. also commenting on the individuality of museums, among other things.
In 2017, Hollein commented in a San Francisco Chronicle article about cuts to the NEA budget, which I reported here.
Also last year, I commented twice about one of Hollein's digital efforts. once at FAMSF, the online guides to an exhibition that visitors can read before they go (and why he believes in them), and later noting how the Städel continued with what he started there after he left.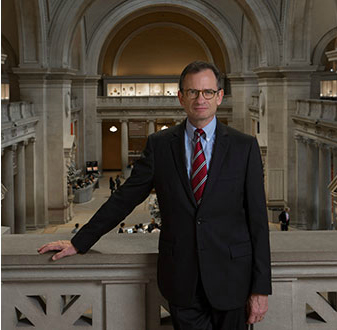 Taken together, those posts–and I had no intention to be definitive; there may have been other even more incisive interviews of him and/or actions to note–give us a pretty good view of his approach to his job, his museum and artistic philosophy and, in some ways, his character. I do not think the other candidates in the running have be so transparent.
Also, remember that he was initially a "student" of former Guggenheim director Thomas Krens (he began his career as chief of staff and executive assistant to him). Krens is known for playing a bit fast and loose, but–since we've seen no evidence so far that Hollein does the same–it's good experience to have had. If nothing else, Krens knew how to raise money. He also knew how to think big, and reinforced Hollein's own tendency to do so.
Hollein, too, is experienced at raising money (important for the Met) and has completed a building project (ditto). He has successfully gotten along with FAMSF's key donor, Dede Wilsey, who likes to rule the roost there. SF sources tell me he has charmed many locals and I've heard no tales of alienation. Curators, mostly, seem to like working with him (ok, I heard one complaint, but there's always one.)
Hollein knows his art history and understands the need for a mix at the Met. (Further evidence of his interest in a broad art program is here). 
He is, I think, press-savvy and that is a big plus because other people at the Met (I shall hold my tongue for the moment) are not.
At 48, he is the right age. If he makes no disqualifying mistakes, he'll be there for 20 years–long after Met President/CEO Daniel H. Weiss (at right), who is 60, leaves and allows Hollein to take the CEO title. The board won't have to go through another tedious search for years.
Reviewing all these items, as a trustee, wouldn't you have picked Hollein?
There is a risk and it's the relationship between him and Weiss. Weiss has asserted his superiority in a few subtle–starting with the announcement itself, which he made. In the past, since the board did the hiring, the announcement would most likely been made by the chairman of the board.
UPDATE: Interestingly, I just noticed that it was only the email sent to the press that began "Met President and CEO Dan Weiss announced today that Max Hollein has been elected the tenth Director of The Metropolitan Museum of Art…." The press release posted online begins "The Metropolitan Museum of Art announced today that Max Hollein has been elected its next Director…." I am not sure what all that is about, unless someone remarked about the email release.
Now, back to my original post: Further, Weiss reportedly told one journalist that he was an art historian with an MBA and that Hollein was an art historian with an MBA–which seems to me a laying down of facts, yes, but in a way that reinforces the idea that Hollein has nothing on Weiss and that, despite the similarities, they are equals: Traditional syntax would have placed the speaker second in the sentence, not first, unless a message was being conveyed.
And, truth be told, Hollein can one-up Weiss in certain ways. As The New Yorker put it:
Hollein unarguably brings more expertise to the institution than his new boss does. Weiss is a medieval-art historian who rose through academia to become a college president and came to the Met from Haverford College. Hollein, by contrast, arrives in New York from two years as the director of the Fine Arts Museums of San Francisco…[and in his] brief tenure…accomplished a great deal…including savvily implementing digital programs to broaden the museum's appeal to the coveted millennial demographic….Before San Francisco, Hollein ran a trifecta of museums in Frankurt: the Städel Museum, the Schirn Kunsthalle, and the Liebieghaus sculpture collection…[where] hows organized under his watch range from Albrecht Dürer and Cranach the Elder to Henri Matisse and Julian Schnabel.

At the Städel, Hollein oversaw a sixty-nine-million-dollar renovation that was critically lauded….[and]…perhaps most importantly for the Met, Hollein, unlike his predecessor, is a fund-raiser with a proven track record.
Equally notable, Weiss never let the impending appointment of a director stand in his hiring path–he has already filled some jobs that, I am sure, Hollein would have liked a say in. Most notably, there was–just last month–the appointment of Michael Gallagher as Deputy Director for Conservation and Sherman Fairchild Chairman of Paintings Conservation.
On the other hand, I do give Weiss credit for taking the fall on the change in admissions policy (which went into effect Mar 1). It was good to get that over with long before Hollein arrives.
The board, in my opinion, made a mistake a year ago when it gave in to Weiss's request (demand?) to be CEO. I understand the need for stability at the Met, someone to make decisions while trustees took their time finding the right director. The board has semi-redeemed itself with the choice of Hollein.
Now the questions are: how will they get along? Can they be "partners"? Or has the Board created another muddle?