Winslow Homer has always been a complicated artist, and now he will be viewed as an even more complicated one. What's going to do that is an exhibition opening in June at the Bowdoin College Museum of Art, Winslow Homer and the Camera: Photography and the Art of Painting.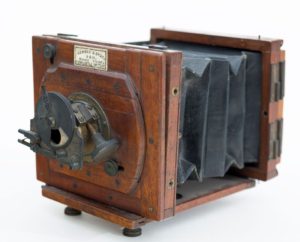 There's a great backstory to the show, having to do with a volunteer firefighter in Scarborough, Me., who had inherited a camera once owned by Winslow Homer from his grandfather. The grandfather was an electrician who sometimes works for Homer's nephew Charles L. Homer, and he got the camera in exchange for work. Or so the story goes. I wrote about what happened "next"–well, in 2014–in an article published online by The Art Newspaper early this morning.
I won't repeat what I wrote there, but I will elaborate.
In a discussion with Frank H. Goodyear III, co-director of the Bowdoin museum and co-curator of the exhibition, we talked about Homer's working methods. Homer used photographs from the moment he bought his first camera in 1884 until he died, Goodyear said, along with "all sorts of tools and techniques." As he did, his works became more complex philosophically as well as superficially.  His cameras, his photographs helped him do that because he took many photos–but the point was not necessarily to be "accurate" but rather to provide multiple ways things could be seen.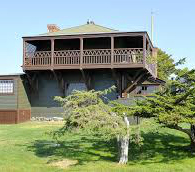 Goodyear and his co-curator Dana Byrd, after about three years of research and study, also posit a theory for Homer's long hours spent on the veranda in his Prouts Neck studio (at left). "He spent a lot of time up there, looking at the ocean, but he didn't create [paint] up there," Goodyear explained. "Dana and I see it almost as a lens; it helped him think through what was being created." He was mulling.
There's no way to prove that, of course. If memory serves, Homer did not leave much written documentation of his life or his work. But's an interesting theory that will, likely, remain unproven.