I tend to me a bit skeptical about the use of technology in museums. But on a recent visit to Denver, I stopped in at the Clyfford Still Museum to see Still & Art, which puts augmented reality to an interesting use.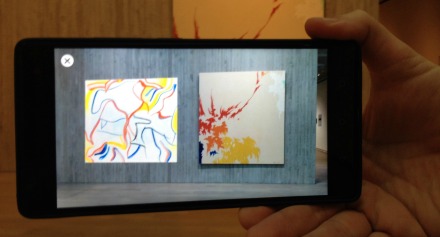 The Still has an issue in that it is a single-artist museum that cannot display the work of other artists. That's what Still himself wanted. He also famouslt declared "My work is not influenced by anybody." But he clearly was, as Still & Art shows. The museum sidesteps the issue a little by saying that:
While many observers have regarded this view as merely typical of the artist's notoriously unyielding singularity, in hindsight Still's words ring true at a deeper level. The concept of "influence" suggests external forces acting upon a passive mind. Still's vision, however, was intensely active. His deep knowledge of world art history enabled him to "take and break" a wealth of images and ideas ranging from the distant to the recent past. Still & Art illustrates how he channeled these points of reference into his own intensely personal style.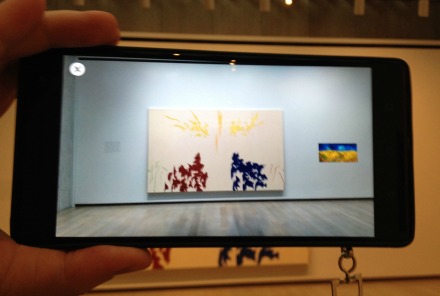 I'm not really buying that line, but I found the use of augmented reality to be appropriate here, if not always successful. The iPads passed out to to visitors are a little balky unless you hold them as if you are filming the exhibition–which is a little clumsy.
The exhibition includes more than 80 Still paintings, works on paper, photographs, and sculptures, and along with them it presents images of other artists. Some are simply printed reproductions, but some appear on an empty gallery wall "by way of a handheld device that presents the Museum's first augmented-reality experience—in striking juxtaposition with Still's."
Still's engagement with artists, as shown here, runs from Leonardo through his contemporaries.
Above, I've inserted two pictures of what the augmented reality shows–the one at the top, juxtaposing Still with de Kooning, is the best example.
Below, I've pasted shots of what the more traditional presentation–with reproduced photos of Van Gogh, O'Keeffe and Monet–is like.
Neither, in all truth, are completely satisfying. But augmented reality is still in its infancy at museums. Let's see how things develop. If they do.