Planning your fall outings to special exhibitions? The season about to begin has a wealth of fascinating shows–many devoted to artists or topics that are due for much more exposure and attention. Let me highlight a few here that. I'll bet, won't get the attention they may deserve:
Tomorrow, the Wadsworth Atheneum Museum of Art in Hartford opens an Norwegian art exhibition, the first, apparently, to be "focused on the leading figures behind the advent of Norwegian landscape painting in the 19th century," the Atheneum said in a press release (which, inexplicably, I could not find yet posted online). Called Sublime North: Romantic Painters Discover Norway: Paintings from the Collection of Asbjørn Lunde, it features
Johan Christian Dahl (1788-1857), Thomas Fearnley (1802-1842) and Peder Balke (1802-1887)….[and] will showcase major works by these artists, set within selections from the museum's broader collection of American and northern European landscape painting in the Romantic era. More than 20 works are on loan from New York collector Asbjørn Lunde….

…"Sublime North" will create a dialogue with paintings in the Wadsworth Atheneum's collection by well-known artists including Thomas Cole, Jean-Baptiste-Camille Corot and William Turner. Select artworks will be installed alongside the Norwegian landscapes, with supplemental text guiding visitors throughout the museum to permanent installations including the renowned Hudson River School galleries.
At left is Dahl's View of the Feigumfoss in Lysterfjiord.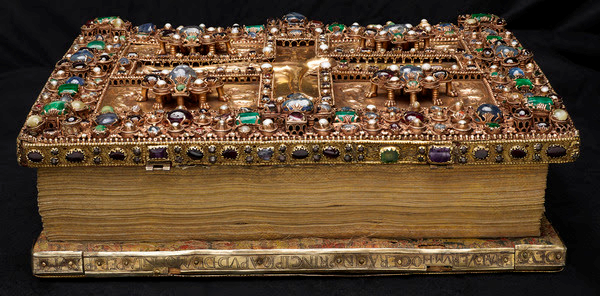 Then Friday comes the Morgan's Magnificent Gems: Medieval Treasure Bindings, which promises to showcase nine jeweled medieval works plus several Renaissance illuminated manuscripts and printed books with artists' depictions of imagined gems. From the release:
The centerpiece of Magnificent Gems is the unparalleled Lindau Gospels [shown at right]. The first jeweled binding acquired by Pierpont Morgan, it was made in the court workshop of Charles the Bald, grandson of Charlemagne.

The dominant feature of its front cover is a gold repoussé Crucifixion, with ten mourning figures surrounding Christ. The architectural features of the border allude to the Heavenly Jerusalem, the city made possible by Christ's sacrifice. The raised stones in the borders and the tiny footstools protect the delicate repoussé work when the book is open.
More details in that press release.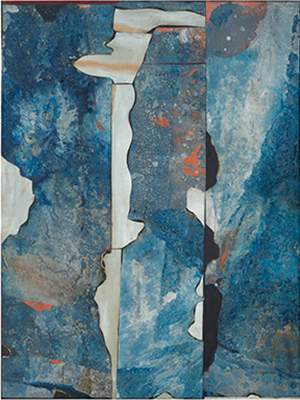 Finally, on Sunday, the Neuberger Museum of Art in Purchase, NY, opens Romare Bearden: Abstraction. 
From the announcement:
…very little attention has been paid to the body of work that immediately preceded those well-known [collage] works—extraordinary and fully abstract watercolors, mixed media collages, and stain paintings, sometimes as small as under three inches high or as large as over six feet tall.  Romare Bearden: Abstraction will correct this omission by providing the first substantive and scholarly examination of this important body of work.
The one at left, River Mist (Courtesy of DC Moore Gallery, NY, Art © Romare Bearden Foundation/Licensed by VAGA, New York, NY). certainly looks lovely.