Summer has simply sped by and I haven't even really gone on vacation yet (that's coming up at the end of September). There was that trip to London (and Malta) in May, as you may recall, which now seems so long ago. But I did intend to write here about my visit on that trip to the Victoria and Albert Museum, which was holding members' preview days for Balenciaga: Shaping Fashion.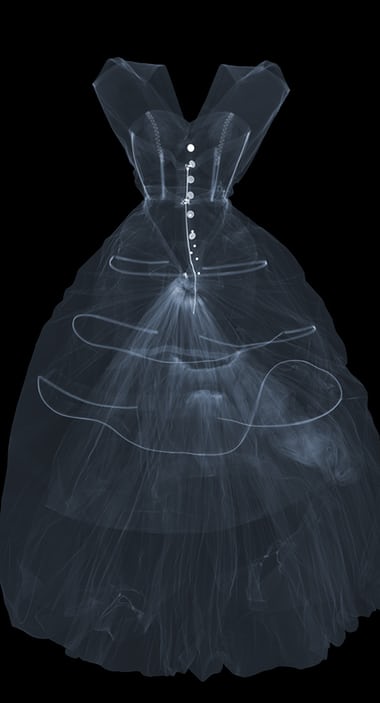 I took a lot of pictures with an eye to sharing them here, and was worried that the show might be over. Surprisingly, as I was there on May 26, Balenciaga is not only still on, it runs until next February 18. That's quite a long time for special exhibition–as confirmed by a look at the other special shows at the V&A. I'm not sure why.
For the most part, I liked the exhibition and the way it was displayed, as you can see here.
Among the pluses: beautiful display of many path-breaking garments that made the case for a comment quoted there by Christian Dior: "Haute Couture is like an orchestra whose conductor is Balenciaga. We other couturiers are the musicians and we follow the direction he gives." Plus, along with the now common additions to garments of archive sketches, patterns, photographs, fabric swatches, the V&A included some x-rays of Balenciaga's constructions (at left). Even the curators could not explain how some costumes worked before seeing the X-rays. And the X-rays are even more sorely needed by many people today.
As the The Guardian wrote:
For the fashion nerd, much of the appeal of Balenciaga is in its unique internal construction. Clients were known to send dresses back pleading that they were impossible to pee in. Museum curators have admitted to leaving pieces hanging in archives for decades after being unable to decide which way up they should go. "It is difficult to communicate to a modern audience how much work went into these clothes, because if you buy fast fashion, you have no concept," says [Cassie] Davies-Strodder. Her team have addressed this by "exploding" dresses, so that a Tulip dress is displayed on a mannequin next to an X-ray of its construction, which immediately unpacks the secrets of its complex seaming.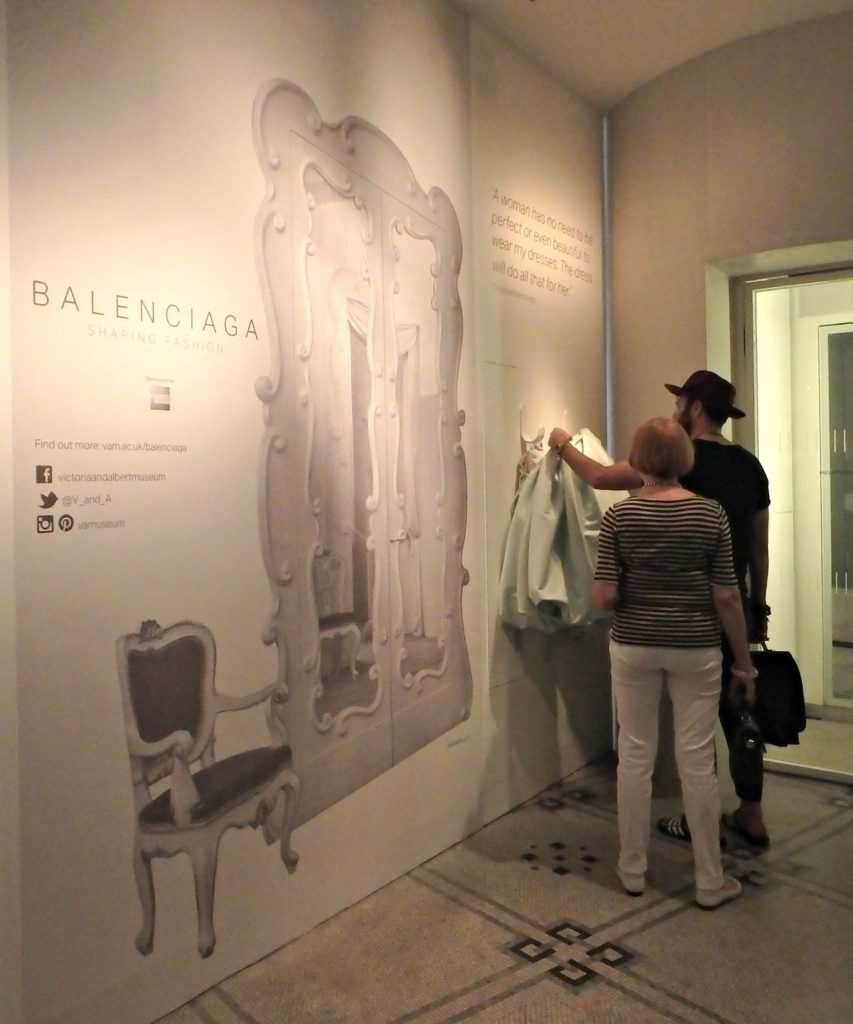 On the other hand, the show also included the now nearly requisite opportunity to try something on (at right)–in this case a garment that could be a skirt or a cape. While I was there, people mostly passed up the opportunity–which in my experience at other, similar stations is typical–but no harm done, really. The Guardian liked it, praising it as a selfie opportunity:
…visitors can leave with a Balenciaga selfie: two mock-ups of a multifunctional piece from 1956 which can be worn as either an evening skirt or a cape are laid out for trying on, against a mocked-up wall of the 50s salon.
My larger concern was that, for so important a designer–"Balenciaga has been one of the greatest influences of fashion in the world," as a quote from Josep Font, creative director of Delpozo, says in a statement on the wall to the exhibition's upper floor (and there similar quotes from other fashion greats upstairs)–the actual number of his creations is small, compared with previous fashion exhibitions I've seen. The entire upstairs galleries are devoted to his admirers.
I personally would have rather seen more by the master. Here are some exhibition shots from both floors. You can tell which are the master's.