Maybe I should not admit this, but I never heard of Luisa Ignacia Roldán until a few weeks ago, when I learned that the Metropolitan Museum of Art* had recently purchased a polychrome terracotta sculpture by her. Dated 1700-1701, The Entombment of Christ takes up a very common theme in Spanish art of the period. Her interpretation adds some nice touches; it's a beautiful, accomplished sculpture by "the first woman sculptor documented in Spain."
Have a look: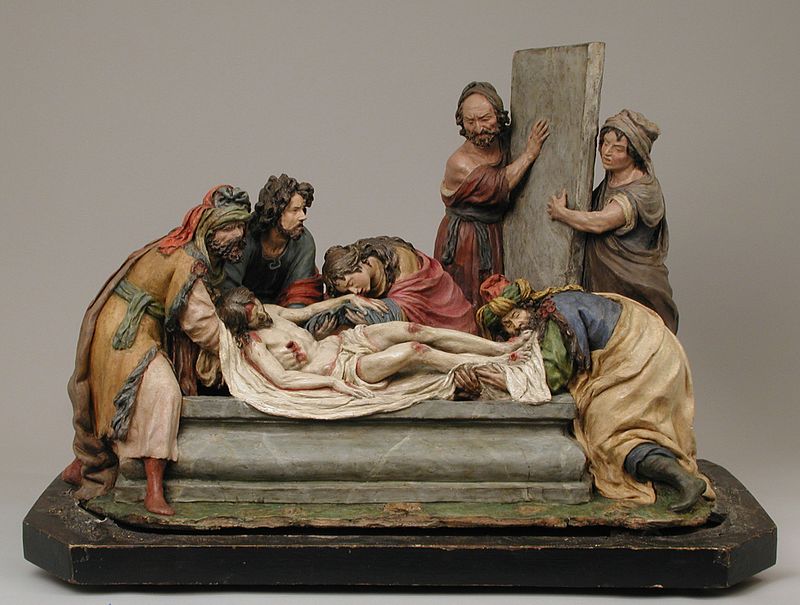 The Met describes the work, which is on view and certainly worth a visit, this being Holy Week, this way:
The Entombment is one of the two "jewel-like sculptures" Luisa Roldán gave to the newly installed King Philip V of Spain in 1701, petitioning him to appoint her sculptor to the royal court. In the previous decade she had pioneered a genre of sculpture—powerfully conceived and exquisitely modelled and painted figural groups, made on a deliberately intimate scale—of which this is perhaps the finest. The emotive expressions of the six figures surrounding the body of Christ as he is laid to rest run the gamut from angry disbelief and empty grief, to tender love and sympathy. The Entombment may have been placed in a convent or monastery affiliated with the royal family, or in the family's private rooms or chapels. In whichever context, it would have inspired meditative devotion, encouraging the viewer to identify with the witnesses to Christ's Passion.
She did become the King's sculptor.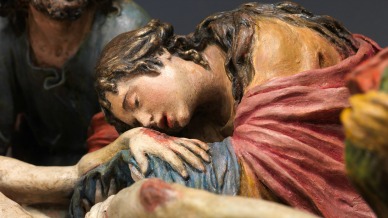 The Met features this work in the third episode of its Met Collects online series, where you can see 27 photos of the work (many details, like the one at right) along with a short essay by curator Peter Bell (who is leaving shortly to take a post at the Cincinnati Art Museum).
The Met owns one other sculpture "probably" by Roldan (not on view), who was the daughter of sculptor Pedro Roldán, but this acquisition seems to be in line with the museum's goal of adding to its Spanish collections. It has nicely amplified her presence by borrowing two other works by her, on view in the same gallery, from the Hispanic Society Museum, which is closed for renovations.
The Getty owns a work by her as well, and added this interesting tidbit in its online feature:
At nineteen, she married a sculptor from the shop and became her family's primary source of income, working independently with her husband as polychromist. Roldán's figures are characterized by clearly delineated profiles, thick locks of hair, billowing draperies, and mystical faces with delicate eyes, knitting brows, rosy cheeks, and slightly parted lips.
Learn more about the Roldan family workshop here.
Photo Credits: Courtesy of the Met
*I consult to a foundation that supports the Met.