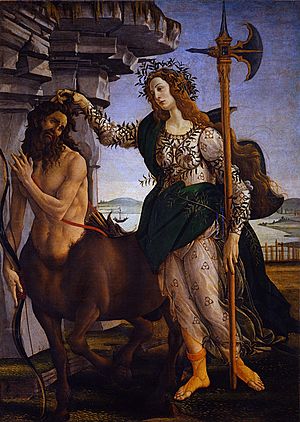 The Muscarelle Museum of Art at the College of William and Mary, in Williamsburg, Va., has pulled off another noteworthy show, again eliciting important loans from Italy that other, larger museums would covet. This exhibit–Botticelli and the Search for the Divine: Florentine Painting Between the Medici and the Bonfires of the Vanities–follows previous ones in the last few years showcasing drawings by Michelangelo, paintings by Caravaggio and drawings by Leonardo. The Museum of Fine Arts in Boston partners with the Muscarelle on them, but it is the smaller museum that organizes them.
That's because, as I explain in my review of the exhibition, which is in today's Wall Street Journal,  the Muscarelle employs John T. Spike as curator and deputy director. He lives in Italy much of the time and has deep relationships there. In the art world, relationships matter–sometimes a little too much. Loans are granted at times to friends, but not to others.  Often, that means that a less-wealthy museum, with few works they can lend in return, cannot borrow great works from large collections.
But not always, and not this time.
The show at the Muscarelle is small and includes some works painted partly (perhaps mainly) by Botticelli's assistants–but that differs not at all from the way art is made these days, or then.
And, as I write, short of making a trip to Italy, this show gives us a better taste of Botticelli than we can get anywhere else in the U.S. The Journal has posted a few works along with the review and I've posted a few different ones here.
When it moves to Boston in mid-April, the exhibition will gain a few Botticellis from the Harvard and Isabella Stewart Gardner Museums, along with one the MFA owns. And the Uffizi will send one more work–the very beautiful Pallas and the Centaur, which I've seen only in Florence. (See what I mean–referencing my comments above?)
I've chosen that one to illustrate this post because the two links give you a good idea of what's on view at the Muscarelle.