Everyone I know is reading more news these days–until they give up and decide to avoid news altogether. Either way, some good news in the art world is not getting enough attention.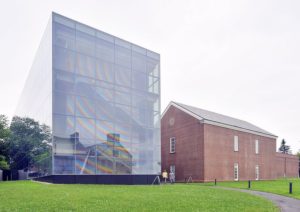 Last week, for example a $100 million gift to Colby College Museum of Art came and went with barely any notice. Therefore, I'm putting it here, even I'm a few days late, too busy with other things.
It came from Peter and Paula Lunder, who had already given about $100 million in art and in funds to the Colby museum. This time, per the press release, the donation:
will add nearly 1,150 artworks to the museum's collection and will launch the Lunder Institute for American Art, establishing Colby as the only liberal arts college with a world-class art museum and a global research center on American art.

…The gift includes paintings, sculptures, photography, and works on paper, dating from a 1501 engraving by Albrecht Dürer to a 2014 aquatint by Julie Mehretu, by more than 150 artists, including Mary Cassatt, Jasper Johns, Nina Katchadourian, Jacob Lawrence, Maya Lin, Joan Mitchell, Claes Oldenburg, Betye Saar, Vincent Van Gogh, Rembrandt van Rijn, Ai Weiwei, Fred Wilson, and James McNeill Whistler. The gift brings the total number of works given by Peter and Paula Lunder, longtime benefactors to the college and the museum, to more than 1,500—joining hundreds of pieces previously promised and given in 2007, valued at more than $100 million.
You can read more at the link above or at this article in the Portland Press Herald. Or this one in the Boston Globe.
Maine, as I have written here and in The Wall Street Journal before, is now critical to the story of American art. You have to visit the museums there.
Photo Credit: Courtesy of the Press Herald