Why Marivaux, n'est ce pas? A year ago, many of us had never heard of, or heard much about, Pierre Gouthiere, the master gilder many of whose works are now on display at the Frick Collection. But now we know him, at least a little. The exhibition, on view for another few weeks, presents clocks, vases, firedogs, wall lights, and mounts for Chinese porcelain and hardstone vases that he gilded–at the French court, for Louis XV and Louis XVI.
Roberta Smith, in The New York Times, called it a "rare and sumptuous" exhibition, and added:
This show is a study in ultra-refinement in which art, craft and invention collude in a burnished glow. It introduces a man who took a minor art to new heights in the last decadent decades of the ancien régime.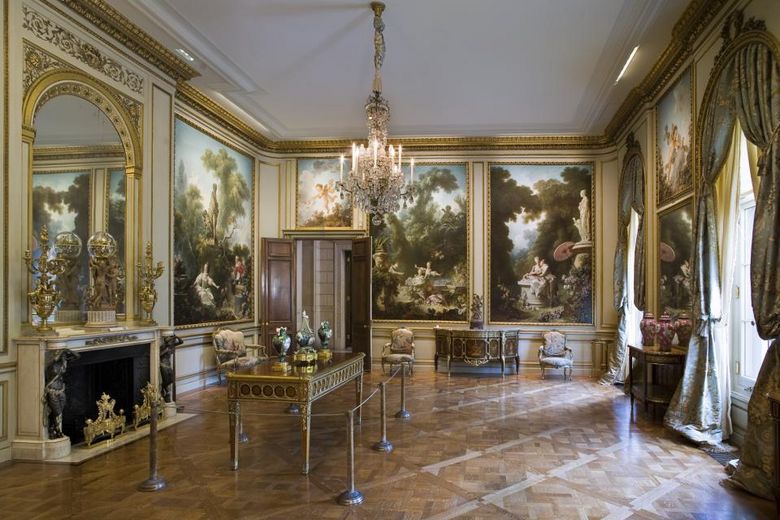 And now the Frick will make a new introduction–to a little-known (here) French eighteenth-century playwright named Pierre de Marivaux. His one-act play, The Constant Players, will be performed in the galleries.
This, to me, is totally appropriate for the Frick's galleries–a situation in which the visual art will add to the theatrical art.
I sometimes find that museums, seeking broader audiences by putting entertainment in galleries, go too far astray from the art in the galleries. This is the opposite, I think–so good for the Frick.
From the release:
The most esteemed successor to the seventeenth-century playwright Molière, Marivaux's innovative language reveals the close relationship between refined artistry and raw emotion.  The play is adapted and directed by Mériam Korichi with actors Joan Juliet Buck, Catherine Eaton, Adam Green, and Sophie Orloff; opera singers Clarissa Lyons (soprano), Ashley Kerr (soprano), Nicholas Martorano (baritone), and Alexander Swan (tenor); and pianist Gerald Martin Moore.

…The galleries of the museum will come to life as a period setting, with the actors moving between the Fragonard Room [above], the Dining Room, and Music Room—making for a completely unique experience. Additionally, Marivaux's work is rarely translated or preformed in New York, allowing American audiences the opportunity to discover one of the most important French dramatists of the eighteenth century.
It's the first time an entire play will be performed in the Frick's galleries and it will happen twice, on Feb. 2 and Feb. 4, at 7:30 p.m.
Photo Credit: Courtesy of the Frick