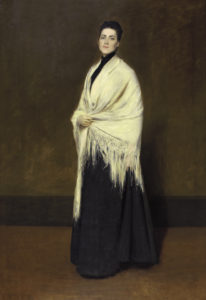 Do we need to become reacquainted with William Merritt Chase? I'm afraid we do. Many people I come across know him as an Impressionist, though he was the last of The Ten to be admitted to the group, or as that painter of fish, because he believed that anything could be made beautiful on canvas and chose fish as one way to prove it.
But that's all and that's why I traveled to Washington several weeks ago to see William Merritt Chase: A Modern Master at the Phillips Collection (take a look at several images at that link; I've posted two others here). I liked it very much (kudos to curators Elsa Smithgall at the Phillips, Erica Hirshler at the MFA-Boston, Katherine Bourguignon at the Terra Foundation for American Art and Giovanna Ginex an independent curator working for the Fondazione Musei Civici di Venezia) and my review was published in today's Wall Street Journal.
In the late 19th Century, the catalogue asserts, Case was, "next to Whistler, one of the most important personalities in American art." Then he faded, as artists do, eclipsed by modernism. This exhibition, which will travel to the MFA in Boston after leaving Washington in September and then on to Venice, where Chase spent some time, is designed to bring him back.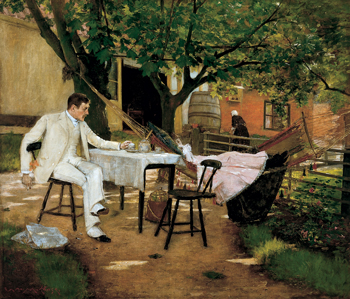 When he died in 1916, The New York Times wrote an editorial–he was that big. After noting that he was appreciated by his own generation, the editorial went on to say that "the final estimate of his work" had yet to be determined, though undoubtedly it would be "high." At the time, he was already viewed as an eclectic who could do many things well. His talent and industry had worked against him.
Carroll Beckwith, his friend, wrote in the next day (NYT-ChaseBeckwithLtr) to confirm his greatness. He concluded, "I predict that his works will grow greatly in value as I see few among us who will be able to take up the brush where he has laid it down." When Chase died, the Metropolitan Museum of Art held a memorial exhibition of his paintings.
Today, Chase should be better known, I think. Here are a few quotes from the catalogue to remind us why:
…Chase was, and remains, the archetypal cosmopolitan artist, painting contemporary American life as lived by the growing leisure class in America in the late nineteenth century—and certainly the most New York City–centric artist of his day. In an address to the National Arts Club in 1910, he regretted that so many American painters chose to work abroad rather than in America, where he felt they were most needed.

…Chase believed that the artist's job was simply to take the commonplace and make it interesting and beautiful—whether it be a pile of onions, a city park, or a sand dune.

"A wall should be treated as a canvas is," he once said. "Real objects take the place of colors." He imparted this sensibility to his paintings.

His work never wavered from its ties to the real world, even as it was being eclipsed by the developing currents of abstract art in the early twentieth century.
While was at the Phillips Collection–concurrent with a members' preview–I stopped at a station the Phillips was using to better "engage" visitors. The museum had left postcards, each picturing a Chase painting, for visitors to record what they saw, thought, heard, etc. when they looked. If this encourages people to look more closely, I'm all for it. Here are copies of a few cards.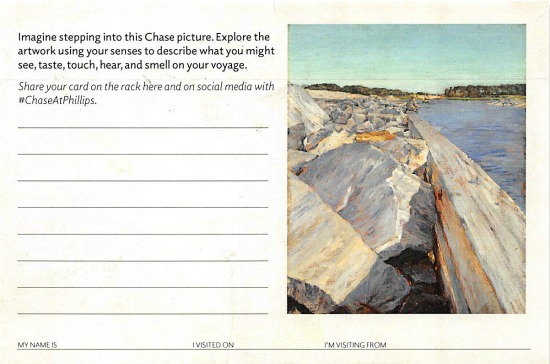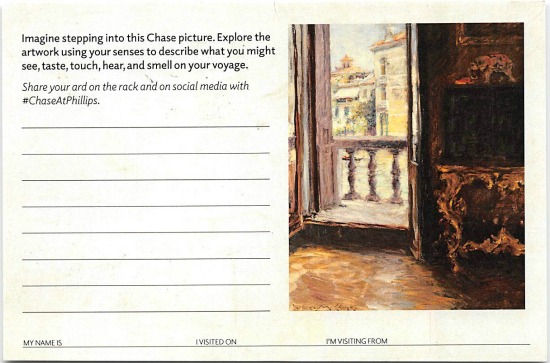 Courtesy of The Phillips Collection (bottom three)