On Jan. 1, I wasn't paying too much attention to the news, but The Wall Street Journal posted an article that day that should not go unremarked. Headlined As Venice's Debts Mount, Mayor Pitches Sale of Art, Other Moves to Keep Finances Afloat, it said that the city is some $65 million in the hole at the moment and added that the mayor, Luigi Brugnaro, has listed among his remedies a plan to sell art from the city's public collections. Among those mentioned are Klimt's Judith II (at right) and a Chagall that "don't belong to the city's history and tradition."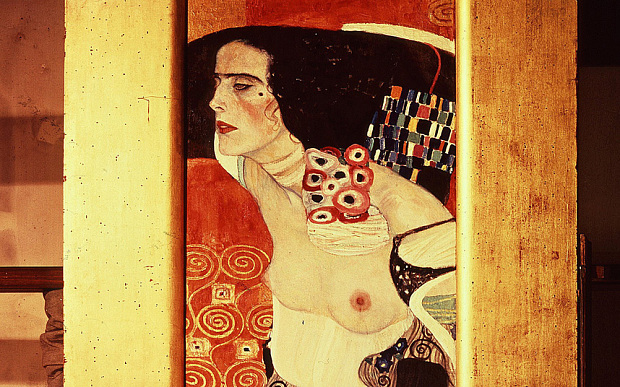 It adds, a bit later:
Art lovers and politicians in Rome have expressed outrage, but Mr. Brugnaro says he isn't cowed. "I'll sell the paintings rather than sit here and admire them while rain drips onto children's school desks and public libraries have no toilet paper."
This raises all sorts of questions, including:
Is he bluffing?
Isn't his criterion, about art needing to belong to a city's history to be necessary to its attraction, stupid?
In my opinion, yes and yes. Someone should definitely refute his ideas about what art belongs in public museums, or encyclopedic museums the world over should simply empty out their galleries and storeroom. (On the other hand, some "national treasure" definitions, which sometimes apply preposterously to items that have no national connection, should also be challenged. But I digress.)
But I have not heard any refutations, at least not public ones. Which leads me to believe that art, once again, is becoming the political football it was in Detroit. We need to nip this in the bud, as it has already spread to smaller cities in Britain and Germany, which in the last two years or so have deaccessioned works (if my memory serves) to raise operating money.
Brugnaro has made other proposals–charging day-trippers to enter St. Mark's Square, asking for donations from cruise ship lines, which annually disgorge some 2 million passengers into the city without paying a thing in taxes but which heavily use the city's infrastructure, etc.
Those are more acceptable, and I think Brugnaro may be trying to force consensus on them by ransoming the art. But crying wolf is never a good idea. Isn't that the morale of the fable?