In the runup to its move downtown this spring (to the building at right), the Whitney Museum just announced an expanded online database of its permanent collection. It's grown from 700 works of art to more than 21,000 by some 3,000 artists–"spanning all mediums—painting, sculpture, film, video, photography,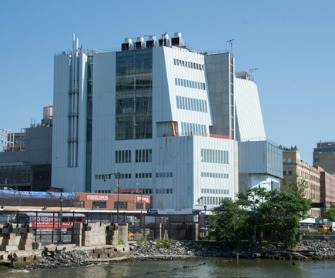 works on paper, installation, and new media."
Along with images of the works, this searchable database also includes written text, resources for teachers, as well as audio and video files, providing a deeper insight into select pieces. The Museum will continually be adding content and new functionality to the site, enriching it with information about current works in the collection and recent acquisitions. Visitors to the site will be able to fully explore the breadth and depth of a collection that helped define what is innovative and influential in American art since the beginning of the twentieth century.
Good move. I've explored it a little, and I like certain aspects. E.g., at the top, there's a link to recent acquisitions. There are links to works with interpretive texts, to works with related video or audio, to works with resources for teachers. It's easily reachable too–one click on the homepage to "Collections."
I like that you can search by artist's name, of course. But I would to search other ways, too. I'd like to search by donor, for example. And by year of acquisition–would it be interesting to see all the works acquired in, say, 1970 versus 2010?
When you put in Edward Hopper, you get 3,154 works–I'd like to know how many paintings, how many drawings, etc. I'd like to know if a work is on view–and where.
Also, you seem to have to get the name rendered just so. When I put in Gertrude Whitney, I got nothing. When I put in Gertrude Vanderbilt–not her full name either–I got results for Gertrude Vanderbilt Whitney. That means her works and works depicting her, like Robert Henri's.
So there are some glitches to fix and definitely some hoped-for functionality.
But I'm glad that more and more museums are putting their collections online.
Photo Credit: Courtesy of the Whitney