The other day, the Freer and Sackler Galleries of the Smithsonian announced that it had digitized its entire collection and was putting it all online for all to see and use–with more than 90 percent of the images in high-definition resolution and without copyright restrictions for noncommercial uses–as of Jan. 1, 2015. This is good news, and I applaud the initiative.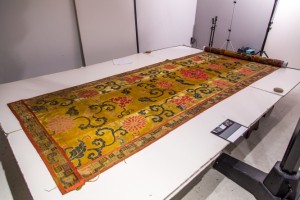 But another sentence in the press release stopped me: "The vast majority of the 40,000 artworks have never before been seen by the public…"
Now, I know full well that many museums own works whose quality isn't up to par–and they should not displace better works, just to be shown. I am also fully aware that some museums keep works for study–and the Freer-Sackler is one of them. The release says there are more than 10,000 items in the Freer Stufy Collection, including multiple pages of certain manuscripts, textile fragments and the like. This collection is "used by scholars around the world for scientific research and reference." I tend to like the open storage areas some museums are using for some collections, though I have no information about what the public thinks about them.
But I think museum should make use of some items they "never" show. Are any lendable to smaller museums? Could any be pulled into a small touring exhibition? If so, museums should do these things.
And if not, why not devote a small area–even one case or one small wall–for a rotating showing of artworks that are "never" shown? Maybe these items could be paired with something similar that is worthy of hanging in the galleries. Would that help teach the public some connoisseurship?  It might even prove enlightening about deaccessioning.
Museums have become so creative at trying new things, they seem to say to us. How about trying something with works in their storeroom? Maybe they would even turn up some wonderful. There've been a lot of cases like that in recent years.
Photo Credit: Hutomo Wicaksono /Freer and Sackler Galleries