Back on Nov. 6, the Phillips Collection sent me an email about a worthy effort: it had started a crowd-funding campaign for a micro-website about Jacob Lawrence. It would feature "unpublished interviews between the artist and museum curators in 1992 and 2000, including one conducted just prior to the artist's death." The point, obviously, was to engage people in learning about Lawrence, particularly because the Phillips plans to present the exhibition Jacob Lawrence: The Migration Series (one image at left) in fall, 2016, following its presence at the Museum of Modern Art next spring.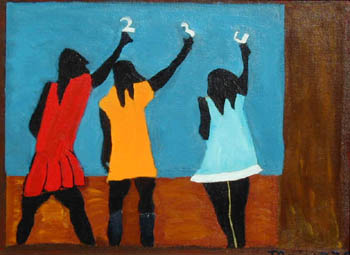 The site will have high-resolution images of the 60 panels in the series–which depicts the mass movement of African Americans from the rural South to the urban North between World War I and World War II–with text explaining each work. It will also present archival photographs, sound clips and videos of musical and theatrical performances, plus historical events, illustrating "the life and times of Lawrence,"  and a lot about Lawrence's life.
But the Phillips needed $125,000 for the sight, and decided to launch a month-long, grass-roots campaign for the $45,000 it had not raised privately. It started the campaign on Nov. 10 on the crowd-funding site Indiegogo.
It's not going well. With 15 days left, it has raised only $1,675–or 4 percent of its goal. That came from 34 funders.
Now, it may true that crowd-funders wait till the last minute, the way auction bidders do. But the Phillips has a long way to go here. What went wrong? Perhaps the name is not "popular" enough.
The Phillips has a long tradition with Lawrence:
In 1942, museum founder Duncan Phillips expressed great enthusiasm for Lawrence's Migration Series upon seeing it at the Downtown Gallery. That year, Phillips gave Lawrence his first solo museum exhibition, and soon after purchased the odd numbered panels. The Phillips has remained deeply committed to sharing and expanding Lawrence's legacy and achievements with broad and diverse audiences.
In the 1990s, the Phillips organized an eight-city national tour of the complete Migrations Series. It also led a major study of Lawrence's life through symposia, conferences, and interdisciplinary panels.

In 2000, Lawrence personally selected the Phillips to organize his retrospective. The highly-acclaimed exhibition premiered at the Phillips and traveled to five other major cities.

In 2007–08, the Phillips launched a five-venue NEA American Masterpieces touring exhibition featuring selections from the series. The tour brought Lawrence's masterpiece to underserved communities throughout the US and was accompanied by a major educational outreach program.
I hope it does not end up with egg on its face with this campaign.