From time to time, especially in times of economic uncertainty, the word "merger" gets bandied about as as solution to museum problems. In reality, art museum mergers are rare. I think (though I don't have statistics on that). And they probably should be rare. But sometimes they make sense, and I was pleased recently to read of a merger that does.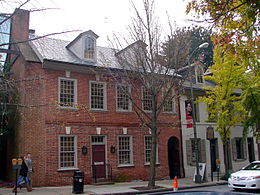 Last Tuesday, the Lancaster Museum of Art in Pennsylvania, which has a local-artist focus, and the Demuth Museum, dedicated to Charles Demuth (a native son) and also in Lancaster, said they are merging. The two locations will remain, but they will become "one museum with one mission." The two have worked on this for two years, they say, which bodes well–even if it's necessary ecomonically, it's not a shotgun marriage. And it involved pre-announcement due diligence and discussion. Lancaster's mayor, Rick Gray, and Sam Bressi, the president and CEO of the Lancaster County Community Foundation, were there at the announcement, showing local support.
Anne M. Lampe, currently the Demuth's director, will become the executive director and chief curator of both museums.
I've been only to the Demuth, not the Lancaster, but from afar this union makes sense economically–there should be a fair bit of savings in administrative costs.  They may sometimes collaborate on exhibitions, but they intend to remain separate identities and curatorial programs.
Both are small places–the Demuth's annual budget is $500,000, while the Lancaster's is $750,000, according to local news reports.  Do they need separate adminstrations? Doubtful. Should they waste effort competing for donors? No. Can there be synergy between educational and outreach programs? I think so. Joint ticketing? I hope so.
Here's more in the press release and in last week's article on LancasterOnline.