If an interactive experience with art is all the rage these days — and to some people it is — the latest project (I don't know what else to call it) at the Tate in London is both in vogue and new. I think — at least I've not heard of anything like this.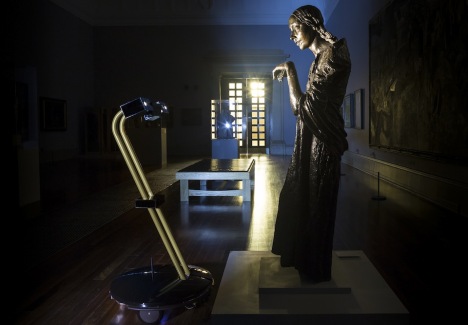 It's called After Dark and it just won the inaugural IK Prize, which is going to be awarded annually by the Tate to a project that "celebrates digital creativity and seeks to widen access to art through the application of digital technology." (That's per the press release.)
After Dark actually has an interesting, worthy goal: it attempts, using robots and the computer screen, to "re-create the experience of being alone in the gallery after dark." Anyone who has had the privilege of a quiet, after-hour experience in a museum would want to do that. So:
This online experience invites people all over the world to view Tate Britain's galleries online at night through four camera-equipped robots roaming the gallery spaces, connecting audiences with art in the BP Walk Through British Art. Live online for five consecutive nights from 13 August, the project will allow the public to view the robots on their journey through the artworks and a number of visitors will be able to remotely control their movements. A first-person, real-time video feed and live commentary will be streamed to all visitors on the After Dark website. This is the first project of its kind in a museum or gallery setting.
I tuned in for a short time tonight tapping the four video feeds to "watch live," and listened to not-very-interesting chatter, only to have "them" (whoever they were) take a break. (I later learned that the project is live only from 10 p.m. to 3 a.m. UK time.)
The project invites anyone, anywhere to take control of one of the robots — by filling in a form (saying why you want to do it) on the website, you might be selected "at random intervals."  After Dark warns:
The robots are choosy about their controllers. For your best chance to be picked you should:

– Avoid typing in an obscene name
– Have a good internet connection and a permissive network
– Use the latest version of the Chrome browser
– Let them know the name of your current location
A design studio called The Workers (Tommaso Lanza, Ross Cairns and David Di Duca) came up with this project. They created the robots, which come with lights, a camera, sensors and motors, with space engineers.
As kind of a demo, they enlisted Colonel Chris Hadfield, a former commander of the International Space Station, to be the first commander of the robots. They captured that, with some explanation of the project, and put it up online here on YouTube. If you stick around to the end, you might be pleased by the final comment.
But I was rather disappointed by my time "watching live." Maybe it will get better as more people learn how to best use this device.
You have a few nights to try it.