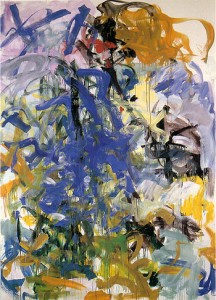 Many in the art world have been anticipating the opening on Sept. 21 of the collection of Harry and Mary Margaret Anderson at Stanford — even from afar. In 2011, the couple donated 121 works of contemporary art, filled with paintings by the likes of Pollock, Diebenkorn, Rothko Elsworth Kelly, de Kooning, Joan Mitchell (Begin Again IV at left), and Elizabeth Murray, to name a few, to Stanford on the condition that it build galleries to house them. Stanford is offering timed tickets, starting in mid-August — but they are free. Â 
But Stanford will be the place to be soon for more reasons than the Anderson collection. Next door to the Anderson Collection building is the Cantor Arts Center. Last week, the Cantor announced three pretty interesting gifts:
Richard Diebenkorn's sketchbooks, donated by his widow, Phyllis –Â 

26 of them, never before shown publicly, containing "an estimated 1,200 to 1,400 drawings, spanning the artist's career and representing the range of styles and subjects he explored." The Cantor plans to catalog and digitize them, plus launch scholarly projects, among other things. 

26 works by Jacob Lawrence, and one painting by his wife, Gwendolyn Knight, from the Gabrielle Reem and Herbert Kayden Collection. In Lawrence trove are "11 drawings, five paintings, nine prints and one illustrated book

."

Andy Warhol's archive of 3,600 contact sheets and accompanying negatives: "Through an invitation-only competition among some of the nation's leading art museums, the Andy Warhol Foundation for the Visual Arts selected the Cantor Arts Center as the permanent home of Warhol's archive of contact sheets and negatives. They'll all be digitized, too. 
 Read much more background and about the plans for these three collections here. 
All I can say is that this is a wonderful confluence of gifts and events and I wish I had plans to go to Stanford soon.
Photo Credit: © Estate of Joan Mitchell (top); © The Richard Diebenkorn Foundation (bottom) via the Cantor