The first painting that Delaware Art Museum trustees have chosen to deaccession is not, as many expected, Winslow Homer's Milking Time. Rather, they've chosen a pre-Raphaelite painting by William Holman Hunt, Isabella and the Pot of Basil.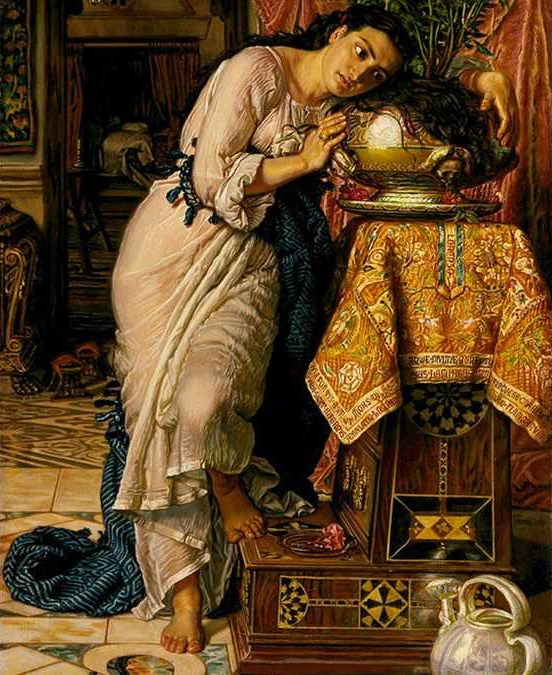 Christie's has placed it in its June 17 London sale of Victorian, Pre-Raphaelite & British Impressionist Art. But the catalogue is not yet online and the estimate has not been disclosed.
Going against traditional museum ethics rules — and some say without exploring all other options — the museum said in March that it needed to sell as many as four paintings to raise $30 million, some of which would be used to pay down debt racked up in its recent expansion. The rest would go into its skimpy endowment.
The Homer disappeared from both the museum's walls and its website, leading many to suspect it was on the block. The painting might raise close to $30 million, according to some experts.
But Newsworks, which is WHYY in Philadelphia, now says otherwise — citing the Hunt. It says "The painting was originally purchased by the museum in 1947 using general art acquisition funds." It appears, from the museum's website, to be the only Hunt in the collection.
I could argue this either way, alas. While the Homer is likely to fetch much more than this, and therefore require fewer paintings to leave the collection, I think it's a better painting than the Hunt and ought to be kept. On the other hand, Delaware has a fine collection of pre-Raphaelite paintings, and I believe that museums should aim for and maintain strength in specific areas to differentiate themselves from other museums.
Which brings me back to square one: I don't think all financial avenues have been explored.