Many museums these days say they want to meet people where they are — to go beyond their walls. And where are a lot of people but in their cars?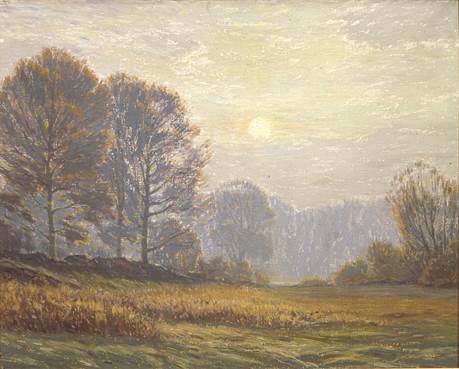 That may or may not have been the motivation of the Bruce Museum in Greenwich, Ct., when it developed its newest initiative, but I thought would give a little visibility to it anyway: To accompany its exhibition Pasture to Pond: Connecticut Impressionism, which runs through June 22, the Bruce has developed a guided driving tour, complete with map,  of some of the scenes around the state that are featured in the paintings in the show.
It's using a system called Guide by Cell to get people to experience art "beyond the exhibition, indeed beyond the Museum's doors, into our local towns and villages to further the appreciation and understanding highlighted in this show that Connecticut was a birthplace of American Impressionism."
According to the press release:
The driving tour begins at the Bruce Museum and ends at Greenwich Point Park, highlighting five different locations over a distance of about 12 miles. Active driving time is approximately 30 minutes. The guide and map will be available in the gallery to exhibition participants, as well as on the Museum's website at brucemuseum.org. All of the Museum's Guide by Cell programs are generously underwritten by Nat and Lucy Day.
The release calls this "a new foray into the Museum's use of the Guide by Cell system," which implies that its in-museum cell tours use the same system — and that's good because presumably museum-goers will already be familiar with it. Guide by Cell is new to me — I've actually never used a cell phone guide in a museum — but it calls itself a leading supplier of guides to cultural institutions.
Photo Credit: October Morning, 1919, by Leonard Ochtman, courtesy of the Bruce Museum