Heaven knows that arts journalism is not as robust as it once was, or needs to be. But the Baltimore Symphony Orchestra is trying something that is, simply, a bad idea.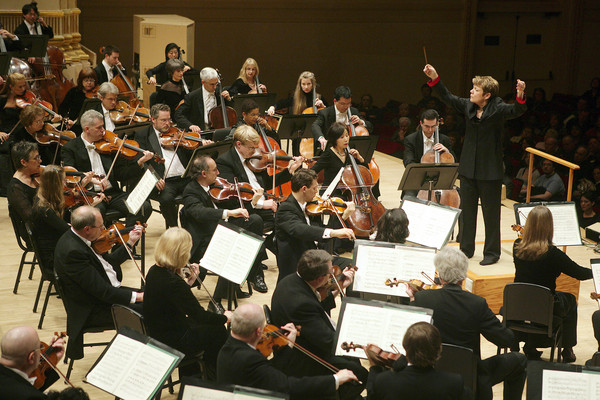 The BSO is offering a journalism "fellowship," through which an early to mid-career reporter will be "embedded" with the symphony for a year beginning in mid-June. This person would be tasked with telling "the underreported stories of orchestra musicians (both the BSO and those outside of Baltimore/Bethesda), Music Director Marin Alsop, guest conductors and guest artists, and a wide range of activities happening within the BSO."
That's not a journalist; that's a PR representative. Maybe embeds can be justified in time of war, as the U.S. tried in Iraq, but in a symphony?
In the description of the job, which pays $38,000 for the year, plus benefits, the BSO calls it a residency.
This Residency is intended to cover orchestra-related news, features, trends, profiles and enterprise work; it will not include reviews, personal essay or opinion writing. The fellow will have access to rehearsals, performances and everything that happens off and on stage, including after-hours talks, meals and drinks with musicians, staff and the community. This is the first and only embedded arts journalism residency of its kind in the country.
It also says:
Multimedia stories will include breaking news, features, trends, profiles and enterprise. Stories will be posted to the BSO's brand new website and throughout social media channels and other online media. The newest iteration of BSOmusic.org is content-rich, hosting a prominent Stories Newsfeed on its homepage, dedicated to the stories created by the Arts Writer-in-Residence. We aim to establish partnerships between the BSO and outside news organizations and hope that the Fellow's content will be syndicated to news outlets that have an understaffed arts desk.
But many important details are left out — first and foremost, who's going to edit the work? Who'll have control? What if the embed turns up information the BSO does not want disclosed? Will the embed quit? And why would a legitimate news outlet want to take articles from an embed?
I could go on. This isn't the same as, but it carries as many potential troubles as, the situation in 2012 when Peter Gelb tried to limit what Opera News, published by the Met's Opera Guild, could print.
According to an article about this in The Chronicle of Philanthropy,
The [BSO] recently underwent a website redesign and was encouraged by new board member Amy Webb, head of Webbmedia Group, a Baltimore digital-strategy consultant, to develop more "self-generated content as a way to better engage our patrons," says Eileen Andrews, the orchestra's vice president for marketing and communications.
That may explain it — the push for more "content" from a web firm executive who sits on the board. But blurring the line between journalism and PR is never a good idea. Anyone who is media-literate will know the difference and doubt the content or the motivation.