I've always been a fan of galleries showcasing new acquisitions by art museums, so I suppose I was predisposed to like the web feature announced today by the Metropolitan Museum of Art.* It's called MetCollects, and there will be one episode a month, each going deep on a recent acquisition. The press release describes it as a "first look," but of the three episodes so far they are all already on view.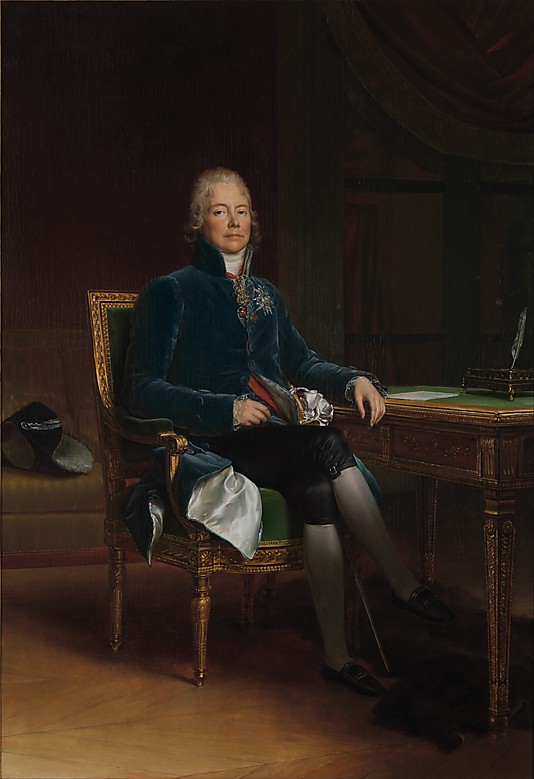 No matter, really. Aside from the focus on new things to see, I like MetCollects because viewers of it will — or can — really look and learn. Each has a slide show, and if you turn it on — instead of changing slides yourself — each slide remains on the screen for about 4 seconds, which sounds like a little but isn't (try it). Part two of two episodes provides a video interview with the artist (William Kentridge in one case) or the curator (Keith Christiansen). Unlike some previous web attempts, these too are substantial in length — 4:03 for Kentridge and 3:11 for Christiansen.
So what are the inaugural episodes? From the release:
* The Refusal of Time (2012), a …multimedia meditation on time and space by artist William Kentridge… The installation is jointly owned by the San Francisco Museum of Modern Art and the Metropolitan Museum.
* The 1808 portrait by Francois Gérard of one of the greatest political figures of modern times, Charles Maurice de Talleyrand Périgord [at left], with an interview by Keith Christiansen…Curator of European Paintings.
* …the Mishneh Torah by the Master of the Barbo Missal. This Italian manuscript from around 1457 is now jointly owned by The Israel Museum, Jerusalem, and The Metropolitan Museum of Art.
The last one does not have a video, and I am not sure why.
At the bottom of each feature, there's a link to Recent Acquisitions Bulletins — another plus. There you'll find downloadable publications from the last five years.
This feature seems to be an ace to me because of its focus and its depth. It joins three other web features from the Met –the Heilbrunn Timeline of Art History, "launched in 2000, [which] …receives more than one million visits per month' Connections (2011) [, which] offers personal perspectives on works of art in the collection by 100 members of the Museum's staff [and] 82nd & Fifth (2013) [, which] features 100 curators from across the Met who talk about 100 works of art from the collection that changed the way they see the world—one work, one curator, two minutes at a time."
I've heard complaints only about the third, because (some critics say) the episodes are too short to convey meaningful information. That's a matter of taste and attention span.
My only complaint is finding these features on the Met website. They are all tabs under the "Collections" heading on the home page, but I initially found them by using the site index.
Photo Credit: Courtesy of the Met
*I consult to a foundation that supports the Met