When do people want to "consume" the arts, for lack of a better word? Art museums, I've long said, are curbing their attendance, their much desired "accessibility," by continuing to offer 20th century hours — mostly in the daytime, sometimes closing as early as 4 p.m. — in a 21st century world, where most people are busy working during museums' opening hours.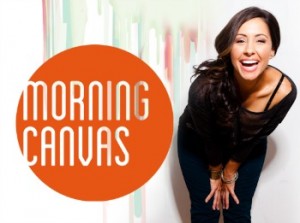 Now there's another example of a well-intended arts offering at a crazy, unrealistic hour.
Recently, the Ovation TV channel launched an "arts programming" block, a two-hour show called "Morning Canvas." But when it is cablecast? At 7 a.m. EST and 4 a.m. PST. Who does Ovation think will be watching then? A.m. TV is already a difficult time period and, as the editorial course of programs like "Today" and "Good Morning, America" seem to show, it's easier to sell celebrity and fluff at that hour than seriousness.
This is really too bad. "Morning Canvas" bills itself as "featur[ing] an eclectic mix of US premiere documentary series and specials, encompassing all arts categories, including classical music performances, photography, dance, theater and the visual arts." Hosted by Nikki Boyer, it began airing, Monday through Friday, on Feb. 24. The lineup looks interesting to me. Here are some highlights, cited by the press release:
The Aristocrats – Monday, March 10; Tuesday, March 11; Wednesday, March 12; Thursday, March 13. This fascinating four-part series follows some of the most famous society families in Britain and Europe – the Rothschilds, the Shaftesburys, the Marlboroughs of Blenheim and the March family of Goodwood – as they try to preserve their traditions and estates in a modern age.
Unfinished Masterpieces – Monday, March 24. Alastair Sooke explores the mysterious appeal of unfinished works of art. From Dickens's unfinished The Mystery of Edwin Drood and Jane Austen's Sanditon to Coleridge's Kubla Khan, he talks to those who have attempted to finish these literary enigmas and those who believe that any such task is impossible.
Treasures of Ancient Egypt – Monday,March 31; Tuesday, April 1; Wednesday April 2. In this epic, visually stunning adventure through Ancient Egypt, journalist and art critic Alastair Sooke tracks down the treasures of the longest-lasting civilization in history uncovering the true story of its rise and fall through the ages.
This week, "Morning Canvas" is focused on:
Sex and Sensibility: The Allure of Art Nouveau – Monday, March 3; Tuesday, March 4; Wednesday, March 5.  In the 1890s, Art Nouveau was an explosion of sexual, scandalous and revolutionary ways of depicting the world that swept rapidly from country to country, influencing the fine arts, graphic art, interior design, jewelry, furniture and lighting. The Art Nouveau movement embraced both new materials and technological innovations, such as various paints, iron and glass, while expounding on lines and curves based on real-life figures. Much of today's art and concert posters are influenced by the Art Nouveau movement. Filmed in London, Glasgow, Paris, Brussels and Vienna, this series documents this hugely influential movement that rose rapidly to prominence and fell just as quickly due to the start of the First World War.
So, I guess the answer is time-shifting, saving the morning airing for nighttime watching. At least Ovation is trying — putting visual arts on television is always a challenge.
Photo Credit: Courtesy of Ovation