The Detroit bankruptcy and the fate of the Detroit Institute of Arts is making waves in Europe, just as Kevyn Orr — the city's emergency manager — made remarks that show, finally, he understands what might have happened. And still might, if he and Gov. Rick Snyder waver. Creditors have not yet given up hope for a sale of the art.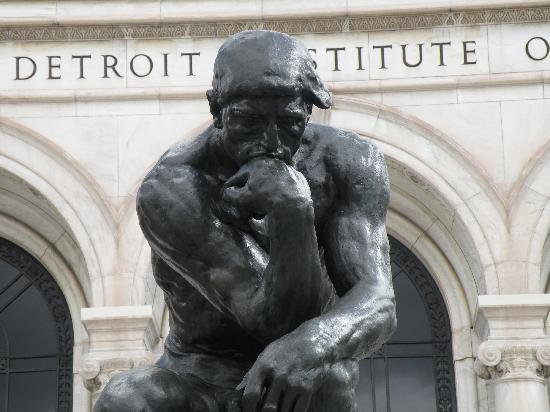 The European connection was detailed in an article posted on The New York Times website on March 26 — Portugal's Move to Sell Miró Works Raises Debate of Preservation vs. Privatization — which referenced Portugal's move to hold an auction, at Christie's, of works by Joan Miró. The original sale was cancelled, although Christie's has now said that the sale will go ahead in June. But as the NYT article noted, in a quote, the very prospect raised broader concerns:
 "The obsession with eliminating everything that is public is leading the government to go further down the privatization road, and perhaps they consider paintings to be part of the same strategy," said Gabriela Canavilhas, a Socialist lawmaker and Portugal's former culture minister. "But even in Detroit, which was declared bankrupt, their final decision was not to sell any art."

And, as a gallery owner said,

"When you sell something like the electricity company or the postal service, you sell the ownership, but the services still remain here and available to citizens," Mr. [Carlos] Cabral Nunes said. "When you auction art, you make sure nobody in Portugal will ever benefit from it, so this is an irreparable destruction of our patrimony."
Orr, on the other hand, showed a greater understanding in his recent comments in a speech at the University of Michigan. Mentioning the possibility of a "yard sale" of the DIA's art, he said:
If you don't think that can happen, there are many sovereign wealthy, Russian oligarchs, Brazilian millionaires who are calling and inquiring" about art…
Read more here, in the Detroit Free Press.
The situation even now keeps changing, however, and the Freep printed a later story saying Orr was speaking metaphorically — all the better, in some ways, because it does show he gets it. The new article — here — said:
…April, there will be hearings in which creditors will have a chance to argue that the city should consider selling art to pay off its debt. While Orr remains the only actor who can sell the art in a municipal bankruptcy, creditors can apply pressure and Rhodes can refuse to approve Orr's restructuring plan if the judge believes the city is unfairly shielding assets….

Bottom line: Until a final deal is reached between Orr and creditors that passes muster with Rhodes, the DIA remains in limbo, ready to go to court if necessary to protect its collection from Russian oligarchs, Brazilian millionaires, American collectors and dealers and anyone else looking to get in on some once-in-a-lifetime action.
That is the said truth, but Orr's words are still a positive.