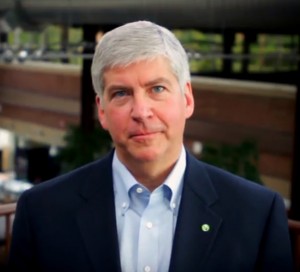 The Detroit Institute of Arts issued a new statement about its predicament a short time ago:
 The Detroit Institute of Arts is pleased that the negotiations around the thoughtful and creative plan initiated by mediators Chief Judge Gerald Rosen and Eugene Driker continue to progress. The positive comments regarding potential state support by Governor Snyder (left) and other lawmakers will continue to provide momentum to the discussions. The DIA is actively engaged in these talks and continues to be optimistic about a positive outcome.
Which sent me looking for some good news from the Governor. About the only thing I could find was a statement from him printed in The Detroit News, which had an editorial board lunch yesterday with Snyder. It printed a summary of his comments, including this one:
On whether the state will contribute to a fund to protect the Detroit Institute of Arts: "It would be much more likely … if it were part of settling the case, if it really said this will wrap things up and not have to worry about a September deadline That's a different story. I wouldn't be close-minded to that.
While hardly definitive, that statement is a positive one. If you remember, a state rescue was what I had hoped for when I write my last published article about the DIA-Detroit bankruptcy. My fingers are crossed.
Meantime, I asked the DIA for clarification and will update if there is something more definitive. UPDATE — there's no need to update; the statement above is what the DIA was referencing.