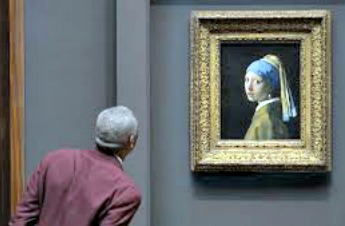 It's time to check in on Vermeer, Rembrandt, and Hals: Masterpieces of Dutch Painting from the Mauritshuis at the Frick. Of course, it's a success, it's popular, but how popular? I asked Heidi Rosenau, the museum's head of Media Relations & Marketing. some questions and here are the answers:
Between the opening on Oct. 22 and last Friday, the Frick sold 99,423 tickets. The average daily attendance figure is "more than double" the usual number during a strong fall. These  numbers don't include people who visit on free evenings or free school groups or attendees at openings, etc.  "I'm sure that it is fair to say that over 105,000 have seen the show," Rosenau said.
On the first Saturday of the exhibition, Oct. 26, the Frick broke its "all-time daily attendance record with 3,274 folks in the door" and then again on Friday, the day after Thanksgiving, it beat that with 3300 paying customers during the day, 10 a.m. to 6 p.m. Tickets, btw, are $20.
But on that Friday night, the exhibition had a free public viewing (sponsored by Agnes Gund, see above link), and 946 people came between 6 p.m. and 9 p.m. So a one day total of 4,246.
The next day (Saturday), with no evening hours, 3,218 people came.
Rosenau suggests that some people, frustrated by the online ticket-buying experience, might just come to the museum — most days, they can buy timed tickets there for the same day.
Sales are booming — with shop revenue :about four times where it normally is during a strong autumn season."
Better yet, the best seller is the catalogue.
Tidbit: for every 1,000 postcards sold of Girl with a Pearl Earring, the shop is selling 800 of Fabritius's Goldfinch. Thank you, Donna Tartt.
Membership is also going strong, and I'll be back with those numbers Monday afternoon.
UPDATE: During this exhibit, membership is growing at more than 100 people per day. In the past, the Frick got "perhaps three a day during a strong season." Now, some days, the figure has reached as many as 120. That is a real bonanza for the Frick, not just in money but in loyalty.
UPDATE 2: I forgot to add that "For the first time in the institution's history, the Frick has opened an additional Museum Shop space within the building to accompany a special exhibition" for this show. Not sure this is progress, but…
Since you know what The Goldfinch looks like, I'm posting Jan Steen's Girl Eating Oysters, another lovely picture.