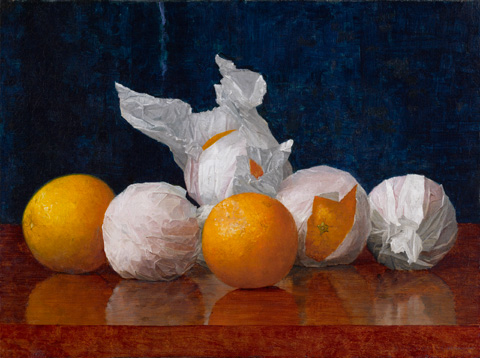 Just getting back into gear here: While I was away, The Wall Street Journal published my review of Art and Appetite: American Painting, Culture, and Cuisine, which opened at the Art Institute of Chicago in early November and runs through Jan. 27. Then it moves to the Amon Carter Museum in Fort Worth. (I wish there were one more venue.)
Delving into the portrayals of food by American painters (mostly — though there are a few sculptures) was a novel and an excellent idea, as
Judith A. Barter, the exhibition's curator, argues that American artists used their depictions of food to comment on socioeconomic, artistic and political issues of the day. These paintings can—and should—be read for their hidden meanings, just as classic Dutch still lifes always have been.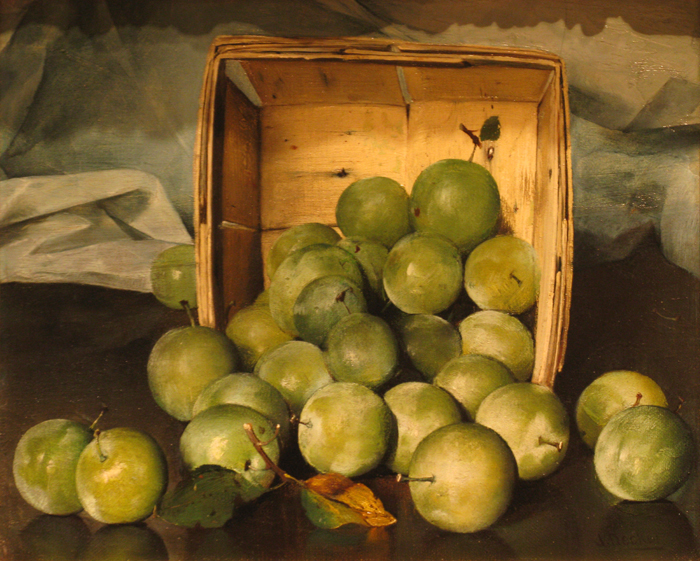 She pulls it off, I say. Just look at Wrapped Oranges by William J. McCloskey, above left, and Green Plums, by Joseph Decker, at right.
Barter loves and knows a lot about food, so she was the right person to carry out ancillary activities that accompany the exhibition. For example, there's an online cookbook "featuring vintage American recipes featured in the exhibition as well as some scrumptious new offerings from Chicago's top culinary talent." The catalogue also has historic recipes. I don't think these "extras," as the Art Institute calls them, are necessarily the right thing for all curators to spend time on, but in this case it was a natural for Barter and it may have enhanced the experience for visitors — perhaps remote visitors, who are able to learn about this exhibit only on the web.
Photo Credits: Courtesy of the Amon Carter (top) and the National Gallery of Art