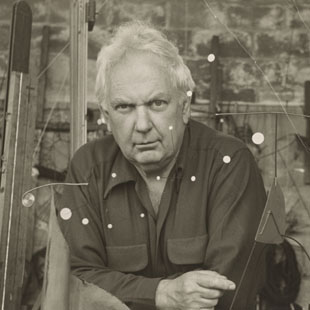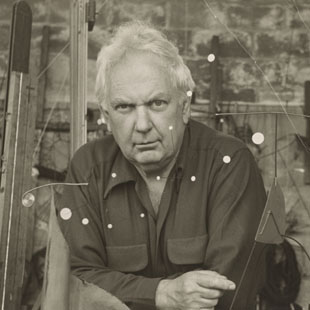 I don't know about you, but I wasn't convinced by an article in The New York Times last October headlined Calder's Heirs Accuse Trusted Dealer of Fraud. Apparently, neither was the court. On Christmas Eve, New York Supreme Court Justice Shirley Werner Kornreich made public an opinion that dismissed the $20 million suit by relatives of Alexander Calder (at right) against the late Klaus G. Perls, Calder's dealer from 1954 until 1976, when the artist died, and the Perls estate. According to a Dec. 26 article in Bloomberg Businessweek,
"All these allegations are so patently inadequate that the court can only conclude that they were brought solely for the purpose of harassment or embarrassment," Kornreich said in the ruling, dismissing the case.

…"Plaintiffs are attempting to litigate issues that necessarily stretch back decades without any personal knowledge or contemporaneous records, where nearly all of the people who had personal knowledge of the facts of the case are dead," Kornreich said in her ruling.
To recap, from the NYT:
…the Calder estate says the Perlses surreptitiously held on to hundreds of Calder's works and swindled the artist's estate out of tens of millions of dollars. Perhaps most surprising, it says that Perls, a dealer with a sterling reputation who campaigned to rid his industry of forgeries, sold dozens of fake Calders. The suit depicts Perls as a tax cheat who stashed millions of dollars in a Swiss bank account, a secret his daughter said she maintained by paying off a former gallery employee with $5 million. She added that Calder had his own hidden Swiss account.
The Calder heirs also talked of "nearly 700 Calder bronze sculptures, jewelry and other works worth well in excess of $20 million that had been in the Perlses' hands and are unaccounted for" and said "the gallery handled at least 61 counterfeits."
In responses, a lawyer for the Perls family had deemed the lawsuit a " "sham and manufactured claim." He characterized it as a fishing expedition, one that is finding only the sort of gaps in records that are normal when tracking 25-year-old transactions from a gallery that has been closed for more than 15 years. The Perls family has asked the court to dismiss the case, also arguing that the statute of limitations has expired.
Of course, the Calder heirs are not stopping with the December ruling. Again, from Businessweek:
"We are definitely appealing — the defendants should not go to bed easily at night," Aaron Richard Golub, the lawyer for Calder's heirs, said today in a phone interview. "The behavior of the Perlses was so contorted that it's very hard to describe it in straightforward terms."
I have read only coverage, not court documents, but so far, I'm with the judge.
Photo Credit: Courtesy of the Hirshhorn Museum