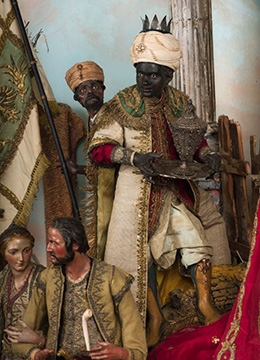 In New York, the Neopolitan Christmas tree and creche at the Metropolitan Museum is a tradition: people love it; many visit annually. (I am one of them.) This year, the Art Institute of Chicago announced that it has acquired its own similar treasure; it's on view until Jan. 8. Here's how the press release put it:
A thrilling new acquisition will be unveiled this holiday season: a mid-18th-century Neapolitan crèche. One of the very few and finest examples of such a work outside of Naples, the crèche is an intricate Nativity scene that reflects the vitality and artisanship that the city is still known for. The Art Institute's crèche features over 200 figures—including no less than 50 animals and 41 items of food and drink—all staged in a spectacular Baroque cabinet with a painted backdrop. Elaborate, complex, and wondrous, the Neapolitan crèche is a rare example of the genre and a once-in-a-lifetime acquisition for the Art Institute.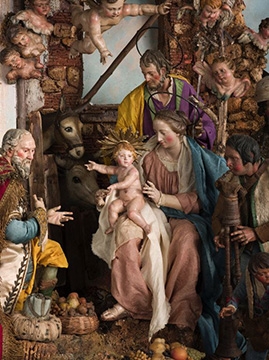 You can read the rest here.
From the pictures — there's a slide show at that link — it's different than the Met's but very beautiful. The wise man and the holy family, which I've posted here, are indicative.
Last month, curator Sylvain Bellenger told The Wall Street Journal: "It's a very complex topic," Mr. Bellenger said, "but it's also simply a fairy tale. Just look at it, and you are 12 years old again."
The Art Institute purchased the creche from Neapolitan collector Vincenzo Porcini. The Carnegie Museum of Art  in Pittsburgh also have one, but I have never seen it.
UPDATED: The diligent Jonathan Gaugler of the Carnegie has just sent me a link to this wonderful video about the Carnegie's creche, which it has owned since 1957. I wish I could see it in person! Watch the video here.
Photo Credits: Courtesy of the Art Institute of Chicago