The James Turrell exhibition at the Guggenheim museum closed on Sept. 25, and today the museum said it was its highest-attended exhibition of all time. More than 470,000 visitors saw the show.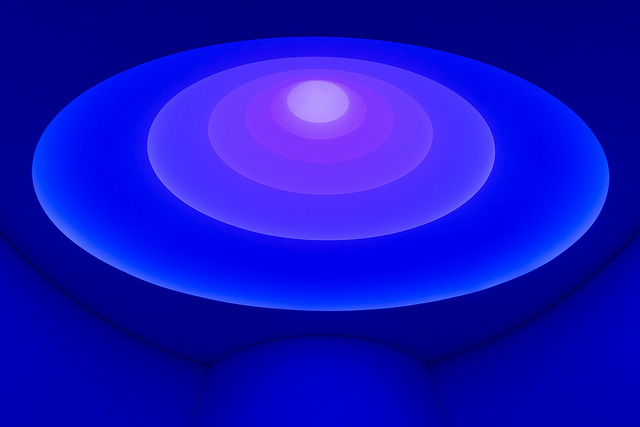 Even if expected — Turrell undoubtedly has star power these days — it's important. To get a number like that, the recognition has to go beyond the regular art-going public — to those new audiences museums crave. Of course, it could be that the FOMO syndrome was at work — "fear of missing out." If so, people went because everyone else was going, not to see the art. But I don't think so in this case. Based on anecdotal evidence — conversations with people I know who are not tuned in to museums and listening to people talk while I was at the exhibition — I think the buzz was about Turrell's art. It didn't hurt that Turrell's "explorations of perception, light, color and space' are part spectacle, but so what?
It also helped that Turrell can't be seen everywhere, that this was his first exhibition in a New York museum since 1980, and that he created a new, site-specific work for the Guggenheim rotunda (Aten Reign). Although, to me, it was not one of his Skyspaces because the rotunda was not open to the sky — and therefore not as good as they are — it was billed that way by the museum. It was, however, "one of the most dramatic transformations of the Guggenheim's Frank Lloyd Wright–designed rotunda ever conceived," as the museum also said.
The Turrell exhibition at Museum of Fine Arts, Houston, has also closed — as of Sept. 22 — and emailed MFAH late this afternoon to see what it had to say. I'll post its response when it arrives.
UPDATE: MFAH reports that "We had our best summer attendance in more than a decade, with 68,112 visitors to the Turrell exhibition itself."
The retrospective in Los Angeles, meanwhile, is also doing land-mine business, to borrow that old cliche. At least that's what I hear.
Photo Credit: Courtesy of the Guggenheim