Since May 1, the Huntington Library, Art Collections and Botanical Garden has been presenting an online exhibition that is part of the Getty Center's Pacific Standard Time Modern Architecture in LA initiative. Since everyone says we're going to be having more of them (online exhibitions), I decided to find out how this one was going. It's called Form and Landscape: Southern California Edison and the Los Angeles Basin, 1940-1990, and it had a rich reserve to draw on: an archive of 70,000 photographs donated to the Huntington in 2006 by the Southern California Edison Co.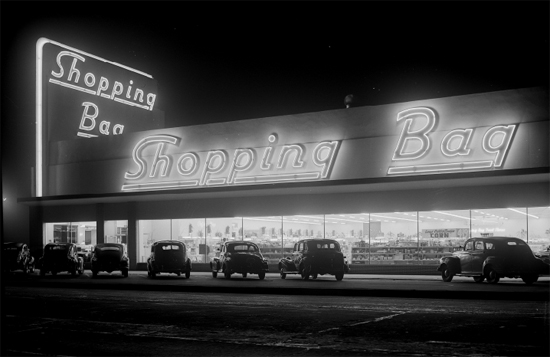 It's a corporate archive, with the photographs taken to document the installation of telephone poles, electrification of various streets, equipment, etc. At first, they were all taken by staff photographers, according to William Deverell, a history professor at University of Southern California and director of the Huntington-USC Institute on California and the West, who co-curated the show, and later by freelancers. Since the gift, they've all been digitized, catalogued and made available on the Huntington site, with support from Edison. In the press release for the exhibition, Deverell called it "a gold mine of history." One look at the photos here shows that it contains some fascinating images — of places that are changed or may no longer exist.
This exhibition came about after Deverell and co-curator, Greg Hise, a history professor at University of Nevada, Las Vegas, proposed public programs that included an online component in response to the Getty's request for proposals. "The Getty was most interested in this archive, and it wanted the exhibition to be all online because they were funding a lot of other actual, real exhibits," Deverall said. "We were entirely happy with that because it was really fun. I'm a traditional scholar with books and print but it was really fun to explore this."
So the two went back to the Getty with the idea of inviting "an eclectic group" of people (professors, authors, art historians, photographers) to dig into the Edison archive with a theme in mind. Each would choose 20 to 30 photographs from the period 1940-90 and write an essay.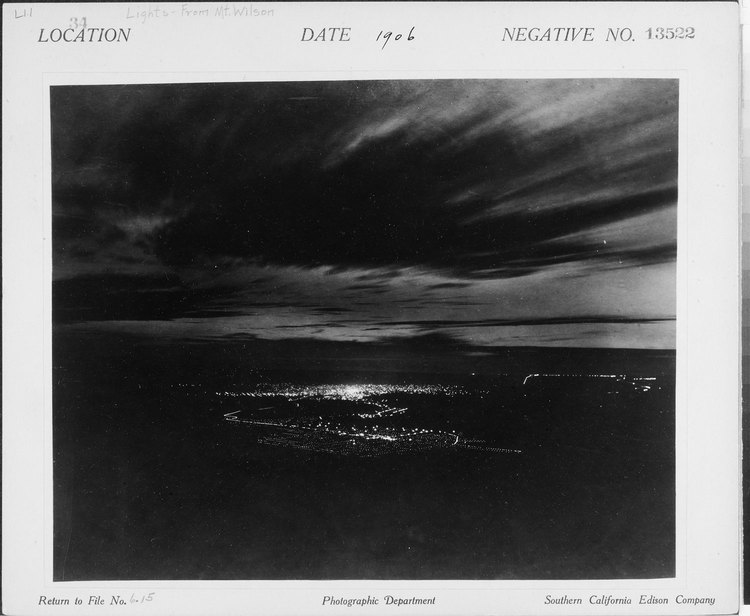 As a result, the online exhibition has 18 sections with themes like "Foodscapes," "Consumption," "Light," "Flora," "Collisions," and "Noir." They're all great, Deverell said, but he singled out the last one because the curator, D.J. Walde, constructed a murder mystery from the photos and turned them into a film. "Those photos have a quality entirely outside their original intent," Deverell said.
Speaking about the entire exercise, he noted that it was interesting that some images appear in more than one theme.
"We were really pleased" with the results, he said — and apparently the public is too. The Huntington says that 45, 238 unique visitors have explored the exhibition since May 1, and the site has had 156,210 page views. "That's what we would hope to get for a brick-and-mortar exhibition, and it's certainly more people than buy my scholarly books," Deverall said.
It's smaller than the Huntington's website, though. Those numbers for the same period are 1,995,225 page views and 1,118,318 unique visitors.
Deverell said that he realized "how fun" this was as they did it, but more important — they as well as the curators at the Huntington learned more about this archive as the project curators explored it with different perspectives. So everyone's gaining insight about LA history and architectural spaces. More online exhibits are probable: he can envision projects that track changes in a place at different times. In fact, the photo at right, City lights as seen from Mount Wilson in 1906  by G. Haven Bishop, has a parallel shot from 1911, which is part of Catherine Opie's project, "Fabrication."
I would agree with the Getty: this Edison archive was perfect for an online exhibition.
Photo Credits: Courtesy of the Huntington