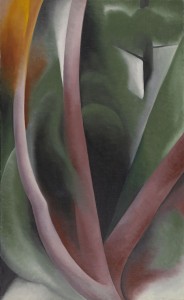 This is a big weekend for American Art, and as one of its stalwart fans, it is my regret (but that's another story) that I am not on site for it: "It" is the opening today (to the public, following a few invitation-only festivities) of the Alfond-Lunder Family Pavilion at the Colby College Museum of Art in Maine. Peter and Paula Lunder announced in 2007 that they were giving a collection, valued then at $100 million, to Colby, and now we get to see what is in it in the first exhibition, The Lunder Collection: A Gift of Art to Colby College. The collection includes more than 500 works of art, most of which we've not seen for some time and never together. Nearly 300 are on view in this initial installation; it should be a revelation.
Earlier this year, I spent some time with Sharon Corwin, the museum's director, and I asked her to pick out a few of the best works in the Lunder's gift. She at first said there were too many, but finally picked five for me. Among them were Georgia O'Keeffe's Birch and Pine Trees — Pink, painted at Lake George in 1925 (at left); Whistler's Chelsea in Ice from 1864, an oil rendering of the Thames River (below right); Thomas Wilmer Dewing's The Song, of two women in a garden (1891); John LaFarge's Votive Wreath, from 1870, which she said "was almost modernist" (below left); and two from Homer — Girl in a Hammock and The Noon Recess, both from 1873.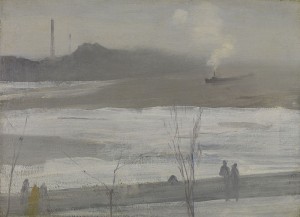 The Maine Sunday Telegram seemed to have asked the same question in mind, and printed more, and slightly different, answers — "key moments" in the show. If Corwin made these suggestions, I can see why — she probably wanted to include a few more modern works. She did mention sculptures by Judd, Chamberlain and Nevelson to me, to be fair, but only after the five (six, really — two from Homer) mentioned above.
The building, designed by Frederick Fisher and Partners Architects, has 26,000 sq. ft. of space, including 10,000 sq. ft. for galleries. That's big — to give one comparison, the entire new Parrish Museum, opened last year, has 12,200 sq. ft. of gallery space. And  he addition makes the Colby museum the largest museum in Maine (35,000 sq. ft., all told, including existing facilities, to the Portland Museum of Art's 22,000).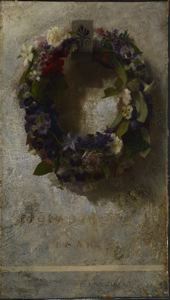 Smartly, Colby is taking advantage of this occasion to present six additional exhibitions:
Spaces & Places: Chinese Art from the Lunder-Colville Collection and the Museum of Fine Arts, Boston
A Thing Alive: Modern Views from the Marin Collection: works by John Marin juxtaposed with early 20th-century photographers like Berenice Abbott and Eugène Atget
Nowhere but Here: Art from the Alex Katz Foundation (American art by the likes of Hartley, Dove, Murray, etc. donated by Katz
Alex Katz: A Matter of Light: his works in the Colby collection
a show of American weathervanes "from a distinguished Maine collection"
Process and Place: a design show explaining the evolution of the Lunder Pavilion, a minimalist creation of Fisher and Partners.
Colby already had an excellent college museum collection — now it has jumped into the ranks of major American art museums. And admission is free.
The Maine paper had some excellent quotes in its article about the opening:
From Peter Lunder, a 1956 graduate of Colby:Â "We knew that if we left our collection to Colby, it would be shown. If we gave it to a big-city museum in Boston or New York or someplace else, it would end up in storage. So we decided to give it to Colby."
From Elizabeth Broun, director of the Smithsonian American Art Museum in Washington, D.C.: "I think the Lunder Collection does for Maine and for the Northeast what Crystal Bridges did for Arkansas and the South."
From Wes LaFountain, former director of the University of New Hampshire Museum of Art: "It's a collection that any museum in America, if not beyond, would love to have."
And from Corwin:Â "This is a gift to the college, to the community and to the state. I hope residents of the state of Maine feel real ownership. This collection is now part of the identity of our state, which already has a real legacy in the visual arts. This collection adds to that legacy, and enhances it in significant ways."
I haven't witnessed Colby in person, I am pretty sure it is a new gem.
Photo Credits: Courtesy of the Colby College Museum of Art via the Portland Press-Herald